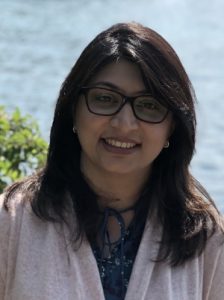 Things that might look like obstacles to some are what fuel Dr. Amna Mirza's determination to keep achieving more.
Amna already had her master's in clinical psychology when she moved to Canada to join her husband, having never visited the country before. She continued her graduate studies in developmental psychology after the birth of her children – a daughter, now 15, and a son who is 12. She says that while balancing the roles of wife, mother, student and now professor has sometimes been challenging, it's also pushed her to succeed.
"Dealing with multiple roles in my life has always been my strength. The more roles I have, the stronger I am," says Amna.
Amna joined Mount Saint Vincent University as Assistant Professor, Faculty of Education, in July 2020. She holds a PhD in Developmental Psychology from Wilfrid Laurier University and completed a post-doctoral fellowship with Dr. Jan Frijters in the Department of Child and Youth Studies at Brock University. She pursued her professorship with the same drive that propelled her through her studies.
"I always wanted to be a professor – I wanted to teach. But not just teaching – it was more of a research-focused teaching I wanted to do," she says. "I find my teaching approach strongly embedded in my research – I guess both work in a reciprocal way where my teaching informs my research and my research findings inform my teaching."
Supportive mentors
In addition to the leadership opportunities provided by Dr. Frijters in her postdoctoral studies, Amna's PhD supervisor Dr. Alexandra Gottardo was an important source of support and guidance as she undertook the challenges of graduate studies in a new country and new language.
"She was my biggest mentor," says Amna. "Coming from a different background, context and language, I knew nothing about postsecondary studies here in Canada. Studies back home were completely different. The master's degree I completed in Pakistan had no research component and here I was in a heavily-loaded, research-based program. At every stage, my one and only stop and support was Dr. Gottardo. She was very helpful, kind and supportive all the time. She showed me what I needed to do to be in academics."
Amna says Dr. Gottardo helped her understand how best to build connections and develop her resume, encouraging her to seek opportunities to present at conferences and publish her research findings. Amna says that not being accepted for the first conference presentation she applied for actually propelled her forward.
"I remember for my very first conference presentation application, I received a rejection and I was really heartbroken and did not realize that was just a beginning," she says. "I kept trying after that and, since then, there have been times when I was a full-time student, a full-time research and teaching assistant, and I was presenting my research at six to seven conferences a year."
Making language and literacy discoveries
Amna's research interests are focused on language and literacy development among English language learners, something that has personal significance for her.
"I was an English as a second language learner," she says. "I did not take a language course at any institute. I learned this language through exposure. The main thing that took me to my research focus was to unravel all the underlying factors affecting language acquisition – especially looking into young second language learners and how they learn to read and speak in different languages. The languages I was interested in studying were new to the developmental research. I started my research profile with studying the role of script in different orthographies and languages."
Amna explored whether language skills transfer or interfere when it comes to learning two languages that share script with each other (Urdu and Arabic) or two languages that share linguistic typology (Urdu and Hindi). She studies individuals from Pakistan, India and Saudi Arabia whose first languages are Urdu, Hindi and Arabic, comparing speakers and readers of those three languages with Canadian bilingual groups who have one of these three languages as their first language. During her research, she made an interesting discovery related to an unexpected connection between Arabic and Urdu: learning Arabic to be able to read the Quran for religious purposes also enhanced children's ability to read Urdu because of the shared script and a portion of vocabulary between the two languages.
"It was like these children were actually receiving formal instructions to read Arabic and they were also reading Urdu without having to learn Urdu script," she says.
Amna has continued to expand her research scope, also exploring questions related to language and literacy learning patterns such as whether it makes a difference if a child first learns to speak a language or to read it, and what influence being a born citizen of a country versus being an immigrant might make in their literacy acquisition. What she found is that what often has the most significant impact in the countries she studied outside of Canada is whether a child attends a private or a public school, since it changes how language and literacy learning take place. She says it's an example of how what she finds when she's investigating one area can result in new and unexpected questions to explore.
"Once you're into cross country, cross linguistic and cross contextual research, there is much more to take into consideration," she says. "You touch and explore one thing, and as you're trying to find answers for that, you're already on to five other research questions. I was surprised to find out when I was testing children in Pakistan for a portion of my dissertation that children who are enrolled in private schools considerably differ from the children who attend public schools. It turned out that the difference was in the teaching approach used by the teachers in the private schools."
Pursuing her dream
This discovery led Amna to create a program to train elementary level teachers working in public schools outside of Canada in the principles of teaching literacy, an initiative she's passionate about and plans to resume once pandemic-related travel restrictions are eased.
"My biggest dream is to actually train teachers in literacy teaching," she says. "I run workshops in Pakistan and what I offer these teachers once a year is training in the different aspects of literacy. The four big areas I cover are phonology, vocabulary, word and sentence level fluency, and comprehension."
Amna says she feels like she belongs at MSVU, even if she hasn't been able to spend much time on campus in her first year at the university.
"I love Mount Saint Vincent," she says. "I love it from afar because I haven't been on campus so much. I'm very much looking forward to this fall to have more hallway interactions and conversations with my colleagues on a daily basis. Being here is great. Everyone has been so loving, caring and thoughtful and made my transition to Nova Scotia much easier and smoother than anyone would have thought."
---

We're advancing research, scholarly work and professional activity. Learn more about this MSVU Strategic Plan Theme »