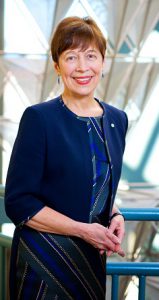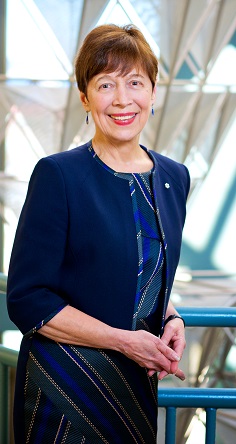 Though she knew of the crusading work of Nancy Ruth, CM, for years before their first meeting, MSVU Interim President and Vice-Chancellor Dr. Ramona Lumpkin, CM, was first connected with the well-known activist, philanthropist and former Canadian Senator through Mount Saint Vincent University.
During her tenure as MSVU's 12th President and Vice-Chancellor (2010 to 2017), Ramona was introduced to long-time MSVU supporter Nancy Ruth, the namesake of the Nancy's Chair.
Endowed by Nancy, the Chair at MSVU was established in 1986 to raise awareness of women's issues by bringing to campus distinguished scholars in women's studies and activists who have contributed to the advancement of women. Both Nancy and Ramona were drawn to MSVU because of its leading commitment to the advancement of women. It's through that shared strong feminist ideology that a friendship emerged.
When Nancy asked Ramona to write her biography, her timing was impeccable. The project became Ramona's primary retirement endeavour when she retired from MSVU in 2017. Ramona is a skilled writer – she holds a PhD in English Literature from the University of Kentucky and is a former Fulbright Scholar to England. Thanks to her background in academia she has an expert understanding of and appreciation for quality research. Writing Nancy Ruth's biography involved a significant number of interviews and other research, including much time spent in Nancy's personal archives in the basement of her Toronto home.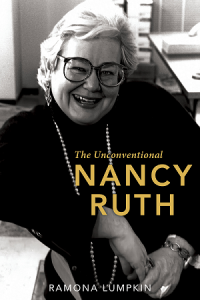 The book was finished just in time for Ramona to return as Interim President of MSVU late this winter. The Unconventional Nancy Ruth was released today, May 11, 2021.
"Born into privilege but expected to use her advantages for the good of others, Senator Nancy Ruth has led an uncommon, unconventional life," notes the book's feminist publisher Second Story Press. "From her religious ministry to rewriting Canada's national anthem to make it gender-neutral, this outspoken, complicated woman has put her stamp on Canada's public life. Her generous feminist philanthropy allowed numerous women's organizations to flourish, and her talents for friendship and for controversy meant the work was serious but never dull.
Like Nancy herself, this book is rich in surprises and contradictions about a remarkable woman who used her privilege to support social change and the battle to better women's lives in Canada."
Ramona reflects that writing the biography was hard work but at the same time an exhilarating journey. She deepened her understanding of Nancy Ruth's triumphs and tribulations and ended up convinced that her story should be told.