By Laken Crowell, MSVU Public Relations Co-operative Education student working with the Early Childhood Collaborative Research Centre (ECCRC)

---
Dr. Jessie-Lee McIsaac, Tier II Canada Research Chair and Director of the Early Childhood Collaborative Research Centre (ECCRC) at Mount Saint Vincent University, started at the university with an idea and three goals.
She knew her position would look at early childhood policies and programs to better understand the needs of families with young children and to recommend adaptations. Her goals involved evaluating population-level data, mobilizing knowledge, and leveraging family voices. These goals remain the foundation of the ECCRC today. And since she began in January 2018, her idea has exceeded her expectations.

Background: A passion for early childhood
Dr. McIsaac's Ph.D. work at the University of Alberta focused on school environments, school-aged children, and the role schools play in supporting children's well-being. Specifically, she studied how a health promoting school environment can support children's physical activity, mental health, and healthy eating.
She then participated in a post-doctoral fellowship at Dalhousie University supervised by Dr. Sara Kirk. Her fellowship focused on knowledge mobilization, which meant finding better ways to create partnerships between academics and government to build knowledge and support practice.
During her fellowship, Dr. McIsaac was given an opportunity to get connected with initiatives led by the Early Years Branch of the Nova Scotia government, "That's where I really started to dig into early childhood [typically birth to age eight]," she says.
Dr. Kirk was a Canada Research Chair (CRC) at the time and became Dr. McIsaac's inspiration to becoming a CRC: "She really was my inspiration for what it meant to be a CRC, someone committed to community, policy change, and also, to be honest, a working academic mom," says Dr. McIsaac. "She showed me what could be in terms of leading an active research centre that partnered with government."
Diving into new opportunities
In January 2017, MSVU received federal research funding for a new CRC position titled Tier II Canada Research Chair in Early Childhood: Diversity and Transitions. The role was intended to focus on early childhood and related policies and programs, as well as the impact of early childhood on lifelong learning, health, and overall well-being.
After a competitive application process, Dr. McIsaac was announced as the new CRC and opened the ECCRC in January 2018. It was an opportunity that perfectly brought together her experience with early childhood, support from colleagues, and an idea for informing policy change.
The beginning of change and community
When it opened, Dr. McIsaac's team in the ECCRC included six colleagues – it has since grown to a team of 16. In addition to Dr. McIsaac, the team includes a research manager, research and project coordinators and evaluators, research assistants, a post-doctoral fellow, and a communications assistant.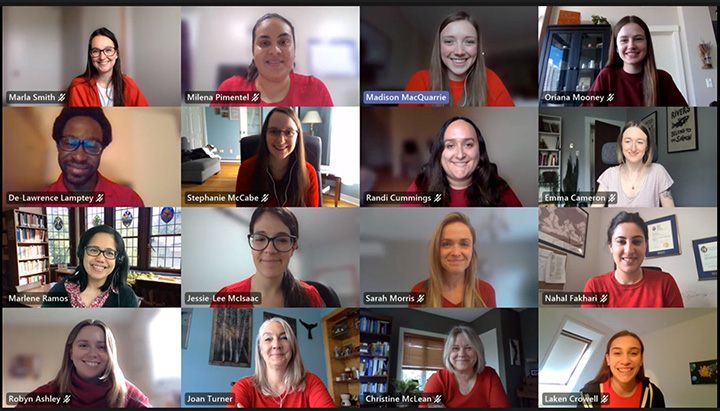 The initial small team established the mission, values, name, and brand of the centre. Dr. McIsaac continues to include her team in all decision-making: "I don't see this as a 'me' thing. It is an MSVU thing, and it is a team thing, and I want to always keep that in mind," she says. "Yes, I am the face, director, and chair, but there is so much more behind that."
The exciting thing about her position, she says, is that "I don't feel like my learning is done. I continue to learn and grow every day." That's why she loves partnering with others. For example, since the beginning, Dr. McIsaac has partnered with Dr. Joan Turner and Dr. Christine McLean, both faculty in Child & Youth Study at MSVU with rich experience in early childhood.
"I bring a lens and they bring theirs and it blends so well together. They are wonderful to work with and so well versed in their fields," says Dr. McIsaac. She is grateful for the two of them, and the many other researchers and community organizations that she has partnered with over the years. Their expertise has helped Dr. McIsaac, and the centre, learn and grow.
Dr. Turner also expressed her appreciation for the ECCRC and her partnership with it. "When Jessie-Lee's CRC position was confirmed, I looked forward to participating with her on research supporting the early years," she said.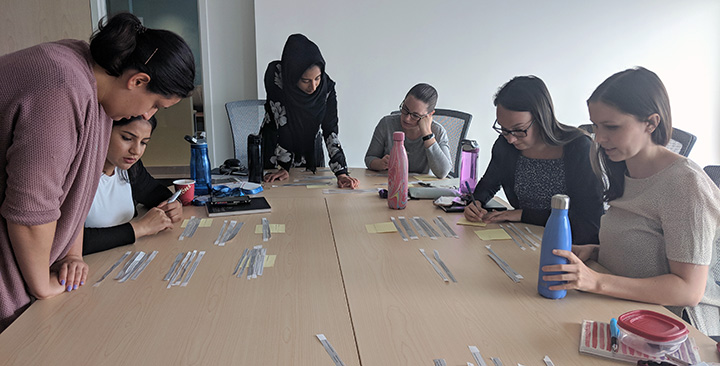 Dr. McIsaac also recognizes the support and funding she and the ECCRC have received from Tri-Council grants, Research Nova Scotia, the provincial government, Public Health Agency of Canada and non-profit agencies, such as the Margaret and Wallace McCain Family Foundation. The timing of the introduction of the ECCRC is one of the reasons that funders and partners were keenly interested in
collaborating and why the centre grew rapidly. "The centre really came at a time when there was increased action by the government, increased interest in doing collaborative work to identify opportunities and to shape policy and practice in early childhood," says Dr. McIsaac.
Some of the major projects conducted by the ECCRC since its inception include:
Positive Solutions for Families: Promoting Positive Parent Behaviours to Support Social-Emotional Health;
Building the Capacity of Early Childhood Educators to Support the Social-Emotional Development of Children and their Families: Evaluating the Implementation of the Pyramid Model in NS;
Illustrating the Experiences of Immigrant Families in Nova Scotia: A Photovoice Project Exploring the Experiences of Newcomer Families in Nova Scotia;
How is the Pandemic Influencing the Lives of Maritime Families with Young Children? A COVID-19 Focused Research Project.
Learn more about the ECCRC's current and past projects. 
The ECCRC has also grown its presence on Twitter and Facebook. The team shares evidence-based resources and information about ongoing projects and opportunities.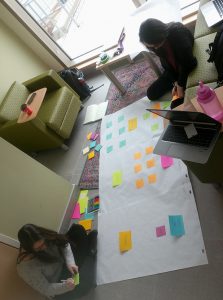 "As a CRC, you are expected to develop research capacity, and I feel this is best accomplished through building relationships with partners," says Dr. McIsaac. In just four years, the impact of the ECCRC on early childhood policy, practice, and well-being is evident. Many families, early childhood professionals, and organizations have come to rely on it. For example, the Centre is helping to inform the ongoing implementation of the Pyramid Model, an initiative that supports early childhood educators with best practices in social and emotional learning. In partnership with Nova Scotia Early Childhood Development Intervention Services, the ECCRC is also adapting, implementing and evaluating a companion program to support families with their child's social and emotional well-being.
Dr. McIsaac is looking forward to continuing work with her team, partners, and funders and learning from them over the next few years. One area of future research will focus on healthy eating environments for young children using a responsive feeding approach. Dr. McIsaac and her colleagues were recently successful in a Project Grant competition through the Canadian Institutes of Health Research to implement this four-year project – stay tuned!
---

We're advancing research, scholarly work and professional activity. Learn more about this MSVU Strategic Plan Theme »