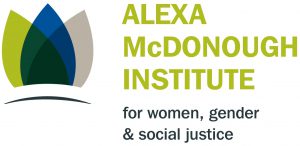 The 2021 Annual General Meeting of the Alexa McDonough Institute for Women, Gender and Social Justice (AMI) at Mount Saint Vincent University (MSVU) will be held virtually on Thursday, June 10, 2p.m. to 3p.m. by the AMI Steering Committee.  All are welcome to attend and can RSVP by signing up at http://bit.ly/AMIWomenSocialJustice and joining the AMI network. The AMI Steering Committee is also asking for nominations for new Committee members.
"We are calling on interested MSVU students and faculty as well as the broader community to fill several positions on the committee," explains Dr. KellyAnne Malinen, Chair of the AMI Steering Committee and professor in the Department of Sociology and Anthropology at MSVU.
The following AMI Steering Committee positions are open for nominations for up to three-year terms, commencing July 1 and will be approved or elected (if more than one nominee) at the AGM on June 10:
MSVU undergraduate student
MSVU graduate student
One of three full-time MSVU faculty members
One of three community members
Chair (who will be one of three faculty members on the Committee; 3-year term)
To nominate someone or inquire about becoming a member of our Steering Committee, please contact Leanne.Birmingham-Beddow@msvu.ca.
"We are committed to partnering with women's centres, unions, social justice organizations, international development organizations, art hives and others to make a greater difference in the world around us," says Dr. Malinen. "That is why it is so important to have a committee with members who represent a variety of interests and are committed to our mission."
The AMI aims to achieve equity and improve lives through feminist initiatives that extend knowledge and understanding of issues related to women, girls, gender, and social justice for the MSVU community and beyond. It does this through education, partnerships, action and research. Some of the events and activities spearheaded by the AMI include the Annual Girls Conference to celebrate International Women's Day as well as partnerships with Understorey magazine and the Nova Scotia Advisory Council on the Status of Women and the Canadian Research Institute for the Advancement of Women.
Recognized as a leader in online and experiential learning, and based on a strong tradition of social responsibility, Mount Saint Vincent University takes a personalized approach to education to nurture socially responsible global citizens. Founded in 1873, MSVU has been nationally recognized for its legacy in the advancement of women, and for facilitating critical advancements in education, communications, food security, healthy aging, literacy, and childhood development.
---

We're building stronger societies through community engagement. Learn more about this MSVU Strategic Plan Theme »