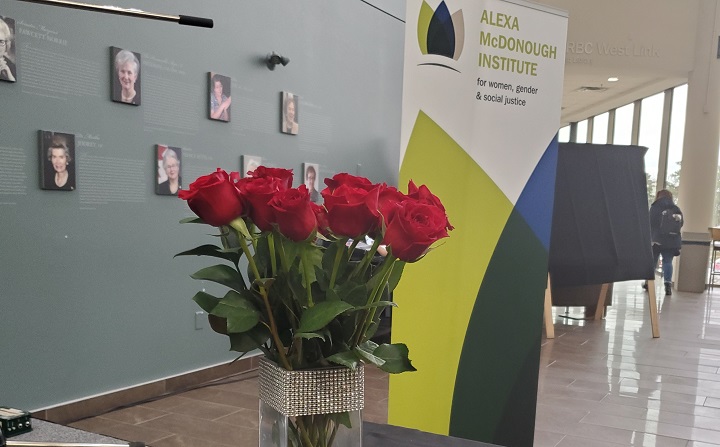 At noon today (Dec. 6, 2019), members of the MSVU community gathered for a special ceremony organized by the Alexa McDonough Institute for Women, Gender and Social Justice (AMI) to mark the National Day of Remembrance and Action on Violence Against Women.
Established in 1991 by the Government of Canada, this annual tribute began after 14 women were tragically killed at l'École Polytechnique in Montréal on December 6, 1989. Now in its 30th year, the Day of Remembrance falls in the middle of the worldwide
16 Days of Activism against Gender Violence
, which runs from November 25, the International Day for the Elimination of Violence against Women, to December 10, International Human Rights Day.
MSVU's ceremony was emceed by Nancy's Chair and Education professor Dr. Susie Brigham and MSVU student Xue Bai, and included presentations by students, faculty and staff. Student and MSVU Feminist Collective member Ellie Lamothe shared a poem she wrote, as did MSVU staff member Junfang (Sophia) Fu and graduate student Marcia De Santos. Attendees also watched a recording of the powerful spoken word piece shared last year by now former Nancy's Chair in Women's Studies El Jones.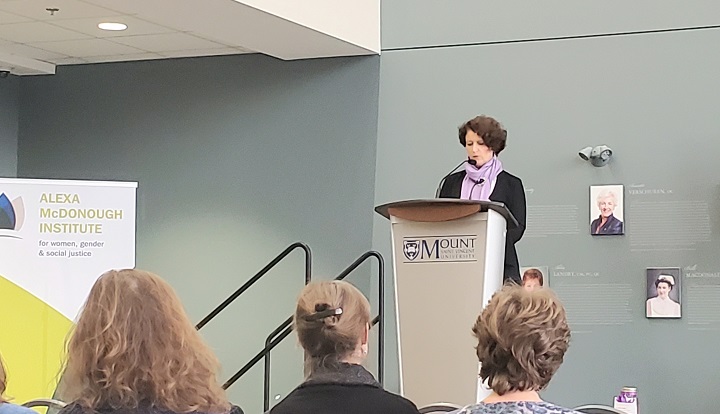 At the event, Dr. Julie McMullin, Vice President Academic and Provost (pictured above), highlighted the importance of education in ending gender-based violence, stating, "It is important for us to look soberly at the facts and to understand that gender-based violence as well as violence based on gender identity, sexual orientation and gender expressions are all too prevalent. As we come together to remember the 14 women who were murdered on this day we must act to ensure that women are free from all forms of violence including psychological, emotional, financial, sexual and physical abuse. We all have the responsibility to mobilize and make our communities safe for every human being who lives in them."
El's piece, titled Fourteen, noted how systemic issues of violence against women have intensified since the Montreal Massacre in 1989. She highlighted that such violence is still happening today and fuelled by the objectification and portrayal of women in the media.
MSVU's Special Advisor to the President on Aboriginal Affairs Patrick Small Legs-Nagge delivered the land recognition and welcome, and student Maram Rezaei (picture below) performed an acoustic Arabic and English version of Hallelujah, with Dr. Susie Brigham giving closing remarks.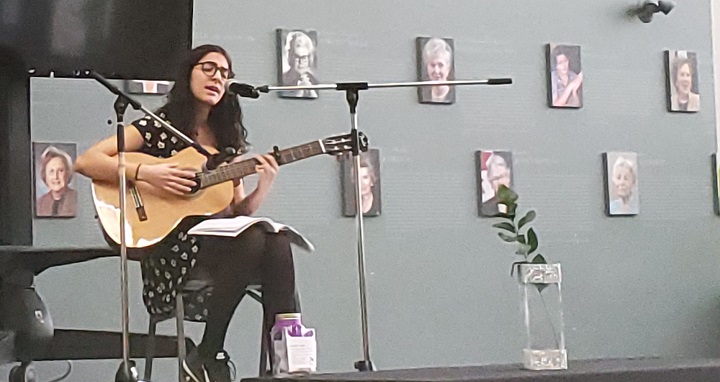 Following a moment of silence, the names of the 14 women murdered in the Montreal Massacre, listed below, were read aloud by Dr. Larry Steele, an associate professor in the Department of Modern Languages.


Geneviève Bergeron
Hélène Colgan
Nathalie Croteau
Barbara Daigneault
Anne-Marie Edward
Maud Haviernick
Barbara Klucznik Widajewicz
Maryse Laganière
Maryse Leclair
Anne-Marie Lemay
Sonia Pelletier
Michèle Richard
Annie St-Arneault
Annie Turcotte