Partnership launched at event at MSVU on January 15, 2020
Mount Saint Vincent University's
Faculty of Education
and learning solutions provider
Nelson
have partnered to deliver Edwin, the company's new digital learning ecosystem, to all MSVU undergraduate and graduate Education students.
Through this pilot project, funded by Nelson, Edwin will be delivered on a DELL 2-in-1 Chromebook to every MSVU Education student. Edwin is a digital learning ecosystem built to ensure all teachers and students have equitable access to high quality learning resources directly linked to provincial curricula.
At the same time as MSVU is piloting the platform with pre-service teachers, Nelson is piloting the program in select grade six Nova Scotia classrooms in partnership with the
NS Department of Education and Early Childhood Development
. To support this initiative, MSVU's Faculty of Education is helping to develop localized teacher resources.
MSVU is the first university in Atlantic Canada to pilot this program, and the second nationally, presenting a unique opportunity for Education students. As part of the pilot, the University will be contributing to research about Edwin and its components.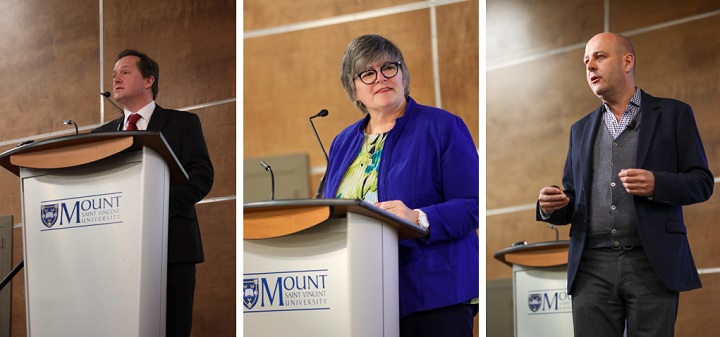 From left to right: Dr. Antony Card, Dean of Education at MSVU; Cathy Montreuil, Deputy Minister of Education and Early Childhood Development; Steve Brown, Nelson CEO
"Our partnership with Nelson means that our pre-service teachers, and teachers in some of our graduate education courses, are becoming familiar with the transformative educational technology of the Edwin computer-based ecosystem," said Dr. Antony Card, Dean of Education at Mount Saint Vincent University. "Edwin puts safe, reliable learning e-resources in the hands of school students in a form that is accessible and equitable. It also has the emerging apps that are now commonly used in teaching. Edwin is changing the way teaching is happening in schools and I am delighted that Nelson is supporting MSVU Education students in a way that will positively impact teaching in this province."
Steve Brown, Nelson Chief Executive Officer said, "Edwin's mission is to empower teacher practice and create personalized learning experiences for all students. Our partnership with Mount Saint Vincent University and the province of Nova Scotia is an example of how together we are preparing future teachers for the classrooms of tomorrow and equipping students with the competencies they need for career preparedness."
"We want our students to have engaging learning experiences. In this pilot, this involves using technology to bring together new learning opportunities that support teaching and learning," said Zach Churchill, Minister of Education and Early Childhood Education. "Almost 1,800 grade 6 students across our province are taking part in the pilot that aligns text, video and other interactive formats with what students are learning through the curriculum."
About Mount Saint Vincent University
As a leader in distance and experiential learning, and based on a strong tradition of social responsibility, Mount Saint Vincent University takes a personalized approach to education to nurture socially responsible global citizens. In addition to programs in Arts and Science, and Professional Studies, MSVU is one of the primary educators of teachers in Nova Scotia, offering a wide variety of undergraduate and graduate Education programs, as well as an inter-university PhD. Founded in 1873, the Mount has been nationally recognized for having one of the lowest student-to-professor ratios, for providing students early access to valuable research opportunities, for its legacy in the advancement of women, and for facilitating critical advancements in food security, healthy aging, literacy, childhood development and more.
About Nelson Canada / Edwin
Nelson is Canada's leading educational publisher providing innovative products and solutions for learners of all ages. Nelson values and respects the lifelong learning continuum and dedicates its business efforts to the diverse learning needs of students and educators alike. Its success now and in the future, is based on strong partnerships and ongoing relationships with educators across the country. Together, they are making a positive difference in the lives of Canadians by producing the highest quality educational products and services.
Edwin is a digital learning ecosystem built to ensure all students have equitable access to high quality learning resources. Edwin is delivered on a Dell 2-in-1 Chromebook and contains a rich ecosystem of digital resources tied to provincial curriculum. Edwin is a tool that supports students and teachers in transforming traditional classrooms into 21st century teaching and learning environments.
Gillian Batten
Mount Saint Vincent University
902-457-6439
Stephanie Gomez
Nelson Education
647-888-3058
Chrissy Matheson
NS Department of Education and Early Childhood Development
902-471-2444