On Wednesday, June 28, 2023, Mount Saint Vincent University celebrated a new group of honourees who had recently been installed on the Riva Spatz Women's Wall of Honour.
The only one of its kind in Canada, the Riva Spatz Women's Wall of Honour (WWOH) at MSVU is a celebration of extraordinary women from all walks of life. The name of each honouree is engraved on a leaf on the wall as a lasting tribute to inspiring women who have made a difference across family, community, and profession. Today, the wall bears the names of almost 600 women.
The whole installation is named in honour of lead donor Jim Spatz's late mother, Riva. As a young woman, Riva survived the Holocaust when she and her younger sister and brother were sent by their parents to join a partisan group and become resistance fighters against the Nazis.
Among this year's honourees were several women leaders in politics; a number of community leaders; MSVU faculty, staff and alumni; and former First Lady Michelle Obama, who will be the feature speaker at an event coming this fall that MSVU is proud to be supporting in partnership with the Nova Scotia Co-operative Council, East Coast Credit Unions and other Atlantic organizations.
As part of this unique tribute, honourees are also highlighted on the virtual Women's Wall of Honour, a platform which provides an opportunity to share the stories of the women honoured and for people from all over the world to join in the experience.
Each of the women celebrated on the WWOH is given a leaf pin to wear. Through the leaf pin, the wall and its importance can be carried with honourees. The pin unites a community of cherished women.
The WWOH is located just outside the Margaret Norrie McCain Centre for Teaching, Learning and Research at MSVU which, fittingly, is the only building on a Canadian university campus dedicated to celebrating the accomplishments of women.
2023 Riva Spatz Women's Wall of Honour Honourees:
The Honourable Barbara Adams
The Honourable Patricia Arab
The Honourable Jill Balser
Danielle Barkhouse
Hermine (Minnie) Bernard (honoured in memoriam)
Jully Black
Kim Campbell
Claudia Chender
Kendra Coombes
The Honourable Susan Corkum-Greek
Lady Ann Day
Dr. Joël Dickinson
Rafah DiCostanzo
The Honourable Becky Druhan
Dr. Jacqueline Gahagan
Suzy Hansen
Cheyenne Hardy
Penelope Joy Henneberry
The Honourable Marci Ien
Lisa Lachance
Susan Leblanc
Patricia MacLellan Maccagno
Alison MacDonald
Donna Christene MacDonald
Valerie MacDonald
The Honourable Karla MacFarlane
Lynne MacQuarrie
The Honourable Kim Masland
Jeanette McPherson
Houda Frances Metlege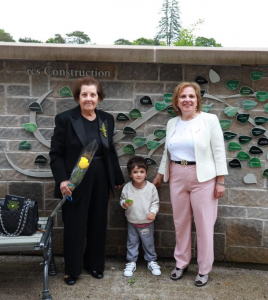 The Honourable Lena Metlege Diab
Lorelei Nicoll
Michelle Obama
Karen Oldfield
Doreen Phinney-Furlong
Dr. Sarah Reddington
The Honourable Kelly Regan
Jane Adams Ritcey
Melissa Sheehy-Richard
Elizabeth Smith-McCrossin
Dr. Anna Smol
Honourable Michelle Thompson