Media release from the Canadian Collegiate Athletic Association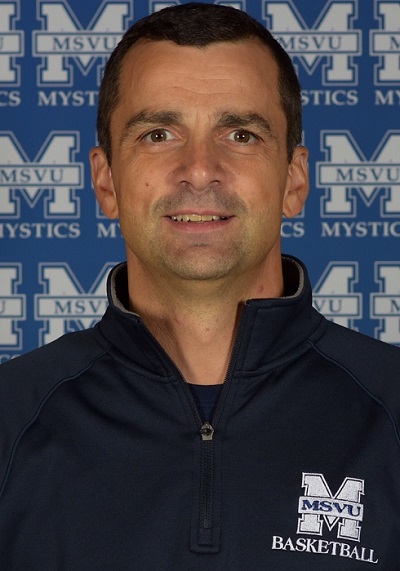 Mark Forward of the Mount Saint Vincent University (MSVU) Mystics has been named the Canadian Collegiate Athletic Association (CCAA) Women's Basketball Coach of the Year.

He received the award at the 2019 CCAA Women's Basketball National Championship banquet, hosted by Cégep de Sainte-Foy in Sainte Foy, QC on March 13.

Forward guided the Mystics to an 18-0 record and first-place finish in the Atlantic Collegiate Athletic Association (ACAA).

"Despite losing several key players from last year's squad, Mark led the Mystics to a perfect season in the ACAA and a third straight trip to CCAA Nationals," said Mai-Anh Nguyen, CCAA Women's Basketball Convenor. "He is always able to get the very best out of his student-athletes."

Forward has been able to continue the momentum the Mystics developed last season, when they finished fourth at the CCAA Women's Basketball National Championship. He has successfully transferred that energy, work ethic and intensity into this season.

He is a complete coach who insures that his players are finding their way and succeeding both academically and athletically. He is also an excellent communicator who truly cares about his student-athletes, both on and off the court.

Forward, who played for MSVU from 1988-92 and was a two-time CCAA All-Canadian, has been named the ACAA Coach of the Year the last three seasons.

He facilitates several coaching clinics in the community and is often a guest coach at numerous club programs. He annually facilitates a youth camp for girls ages 12-17 and is the mentor coach for a girls basketball club in Halifax (U15, U16, U18).

"Mark's hard work, professionalism and integrity as a person is truly appreciated and valued by his student athletes, coaches and coworkers," said June Lumsden, Director of Athletics & Recreation at Mount Saint Vincent University. "The Mount is very proud of coach Forward's accomplishments and his contribution to the CCAA, ACAA, his community, the Mount and our student athletes."

CCAA Coach of the Year winners receive a customized ring provided by Jostens Canada, the Official Ring Supplier of the CCAA Championship Awards Banquet.