The MSVU *2SLGBTQIA+ (Pride Advocacy) Committee, which is comprised of faculty, staff and students, was struck in early 2019. Reporting to the Associate Vice-President of Student Experience, the committee is dedicated to building an inclusive campus that aims to disrupt dominant normative paradigms of gender and sexuality, and enhancing MSVU's 2SLGBTQIA+ community resources and supports. Student voices are prioritized in this work.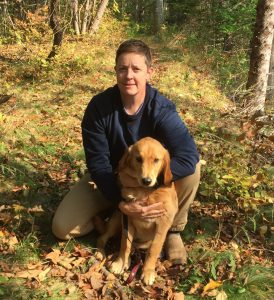 Dr. Sarah Reddington, Assistant Professor in the Department of Child and Youth Study, has chaired the committee since its inception. She's proud of the team's efforts to date, which includes working with the Registrar's Office to ensure all software platforms use students' preferred/chosen names in university correspondence, creating gender inclusive resources for incoming students, enhancing 2SLGBTQIA+ content on the university website, and laying the groundwork for a number of education and awareness campaigns, among other initiatives.
"Individuals in our communities who are Black, Indigenous and people of color (BIPOC) who also identify as LGBTQIA+ experience higher rates of social discrimination and isolation, including bullying, family rejection and a lack of social support. The Pride Advocacy Committee is committed to standing together against transphobia, homophobia and all forms of hate and gender injustices," said Dr. Reddington.
New initiatives for this fall
The committee will be launching some exciting initiatives in the fall, including two partnerships: one with the Health Office to provide free menstrual cups, and one with the Pride Student Centre to offer free chest binders for trans and non-binary students. Both of these initiatives fill needs expressed by the MSVU student body. The committee will also offer a free online course to MSVU faculty and staff, which was developed by Nolan Pike of Equity Educate. Nolan is a proud queer and transgender person and community educator, and also an MSVU alum. The course will introduce participants to key issues related to transgender inclusion and provide practical solutions to common barriers, covering topics such as gender identity, pronouns and gender inclusive language, and the impact of language and design. More details on these initiatives will be released in the coming months.
"The committee would like to wish everyone happy pride month and invites and welcomes comments, suggestions and feedback in relation to the services, resources and education the MSVU community would like to see at the university," said Dr. Reddington. The committee is also looking to add more student members to the committee. To provide feedback or to learn more about becoming a student member of the committee, contact sarah.reddington@msvu.ca.
*2SLGBTQIA+ is an acronym for two-spirit, lesbian, gay, bisexual, transgender, queer, intersex and asexual, while + stands for other ways individuals express their gender and sexuality outside heteronormativity and the gender binary.
---

We're committed to equity, diversity, inclusion and accessibility. Learn more about this MSVU Strategic Plan Theme »