Two MSVU researchers have received funding to advance their research from the Social Sciences and Humanities Research Council (SSHRC) in the 2021 Insight Grant competition. The recipients were officially announced today, June 15.
The work SSHRC supports encourages the deepest levels of inquiry. It spurs innovative researchers to learn from one another's disciplines, delve into multiparty collaborations and achieve common goals for the betterment of Canadian society. Research outcomes are shared with communities, businesses, and governments, who use this new knowledge to innovate and improve people's lives.
Dr. Anna Smol, Department of English

Dr. Anna Smol, Professor in the Department of English, received $72,983 to write a monograph on J.R.R. Tolkien's alliterative verse compositions. Dr. Smol will explore how Old English alliterative verse shapes the most prominent typologies of Tolkien's poetry and fiction and analyze how the consistent subject matter of his alliterative poems express his views on language, heroism, and war.
Dr. Smol will investigate Tolkien's use of alliterative poetry as a form of modern medievalism to explore Tolkien's ideas in the context of twentieth-century post-war views. Dr. Smol aims to place Tolkien's compositions in the context of contemporary discussions of medievalism and enhance understanding of Tolkien as a poet experimenting with metres.
This contribution to the field of Tolkien studies will provide an original analysis of the unpublished manuscript drafts of his drama, "The Homecoming of Beorhtnoth Beorhthelm's Son," as well as published versions of other alliterative compositions: in "The Notion Club Papers," "The Lost Road," "The Fall of Arthur," "The Lay of the Children of Húrin," and several other short compositions. The Tolkien Estate forbids any mechanical reproduction of the manuscripts, including photography, photocopying, and scanning, therefore all Tolkien researchers must read the manuscripts on site in Oxford or Leeds. Dr. Smol will travel to Oxford and Leeds to examine unpublished manuscript drafts during this project, pending easing of pandemic travel restrictions.
Dr. Smol plans to launch a website for dissemination of her research, including resources for analyzing alliterative metres and secondary sources on the subject. Additionally, she plans to produce podcasts that will reach out to a global network of Tolkien readers, poets, students, and scholars, reporting on the progress of her research and demystifying the process of humanities research.
Dr. Phillip Joy, Department of Applied Human Nutrition
Dr. Phillip Joy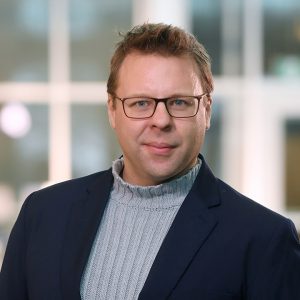 , Assistant Professor in the Department of Applied Human Nutrition, received $78,891 to examine the role of compassion in the well-being of Lesbian, Gay, Bisexual, Transgender, Queer (and Questioning), Intersex, and Two-Spirit (LGBTQI2S) persons and how compassion may help to ease negative experiences created by heteronormativity and binary notions of gender. The project seeks to understand how compassion may be a path to societal change; a solution to changing heteronormative and homophobic views within society that negatively influence all of us and our wellbeing.
Rooted in community focused research, particularly in the LGBTQI2S community, research participants will be asked to record personal narratives about compassion. The data that will be collected during this project will be illustrated and turned into a comic book anthology, accessible to all.
Dr. Joy's project will produce and stimulate conversations within LGBTQI2S communities and society as a whole. The findings will offer new ways of thinking about human relationships and how to make social changes that bring people together. Ideas about how to practice compassion will lead to better ways of caring for one another and help LGBTQI2S people feel less marginalized and disconnected from family, friends and society.
The Social Sciences and Humanities Research Council of Canada (SSHRC) is the federal research funding agency that promotes and supports postsecondary-based research and research training in the humanities and social sciences. By focusing on developing talent, generating insights, and forging connections across campuses and communities, SSHRC strategically supports world-leading initiatives that reflect a commitment to ensuring a better future for Canada and the world.
Congratulations Dr. Smol and Dr. Joy!
---

We're advancing research, scholarly work and professional activity. Learn more about this MSVU Strategic Plan Theme »