A commitment to student engagement
Members of the Mount Saint Vincent University Students' Union (MSVUSU) and the University administration have signed the first-ever memorandum of understanding between the two organizations, marking a major commitment to student engagement.

The MOU is only the second of its kind between a university and students' union in Nova Scotia, and makes clear a commitment by both parties to make student input a priority for governance.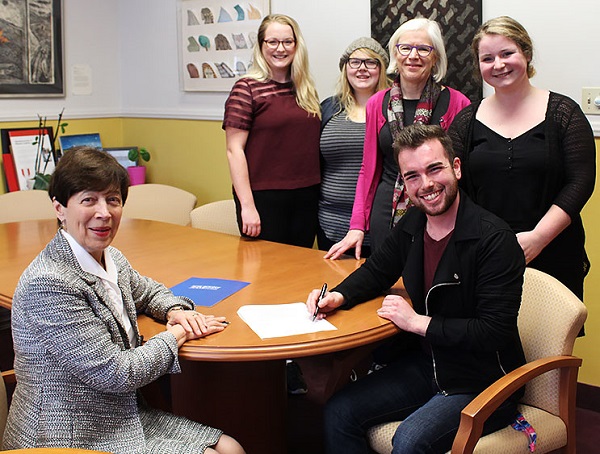 "The MSVUSU has been very fortunate to have open, transparent, and respectful relations with our Administration," said Ryan Nearing (MSVUSU President at the time of the signing). "This agreement will formalize many of the informal practices we've developed over time, ensuring our successors can enjoy these mutually beneficial relations."
Ryan worked with University President Dr. Ramona Lumpkin to develop the MOU, in consultation with members of the MSVUSU Executive Team and Senior Administration.
Additionally, the MOU formalizes student engagement in the University's budget development process. This includes a presentation from MSVUSU representatives to the Budget Committee, a University budget town hall with students, and a roundtable discussion with the Students' Representative Council (SRC). The agreement also establishes regular meetings between members of the MSVUSU Executive and University senior administration, and a standing invitation for senior administration to attend SRC meetings.
"Students are my greatest motivation and I'm pleased to have enjoyed close working relationships with student leaders during my time at the Mount," said Dr. Ramona Lumpkin, President and Vice-Chancellor. "It is through partnerships like demonstrated by this MOU that the needs and voices of students will continue to be heard and valued at our University. Kudos to Ryan and his team for leading this excellent initiative."
"Under Dr. Lumpkin's leadership, a focus of student engagement has transcended all parts of this institution," added Nearing. "As her time at the Mount comes to an end, this agreement will ensure her legacy lasts beyond her time on campus."
A copy of the memorandum of understanding can be found
here
.
---
Pictured above, from left to right: Dr. Ramona Lumpkin (seated), President and Vice-Chancellor, Mount Saint Vincent University; Morgan Atwater, Vice President, Advocacy, Mount Students' Union (16-17); Erin Murray, Vice President, Communications, Mount Students' Union (16-17 and 17-18); Dr. Elizabeth Church, Vice-President Academic, Mount Saint Vincent University; Ryan Nearing (seated), President, Mount Students' Union (16-17); and Haley Myatt, Vice President, Student Life, Mount Students' Union (16-17) Missing from photo: Brian Jessop, Vice-President, Administration, Mount Saint Vincent University