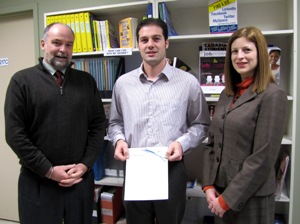 The first Co-Curricular Record (CCR) at the Mount was awarded to Darryl Simmons, a student in the Bachelor of Education program on Thursday, December 9. The CCR is a document that verifies Darryl's leadership and extra-curricular involvement.
The Co-Curricular Recognition Program (CCRP) recognizes student participation in volunteer work, student societies, athletics, professional development and other leadership experiences on a formal university document. Initiated at the Mount on September 1, 2010, 150 Mount students have already registered with CCRP, with over 240 different activities listed.
 "Some of the activities Mount students have submitted include volunteering for Feed Nova Scotia, the CIBC Run for the Cure and the World University Service of Canada," says Christine Frigault, Coordinator of Career Planning Services at the Mount.
For Darryl, his CCR will serve as an asset when he is applying for jobs in the school system.
 "It's an additional resource to show my level of commitment and teamwork," he says.
Darryl was registered for CCRP to document his involvement on the Men's Varsity Soccer Team. Faculty and staff are encouraged to submit names of students who are involved, and are also called upon to validate student participation in activities that they supervise.
An informational session for students to learn how to start their CCR will be held on January 4, 2011 at 2 p.m. in Seton 306 as part of Winter Orientation activities. Sessions are open to all students, and several will be held throughout the new year.
For more information about CCRP at the Mount, please visit www.msvu.ca/ccrp or contact ccrp@msvu.ca.

Pictured above: Jeff Hollett, AVP Student Experience, Darryl Simmons, recipient, and Christine Frigault, Coordinator of Career Planning Services