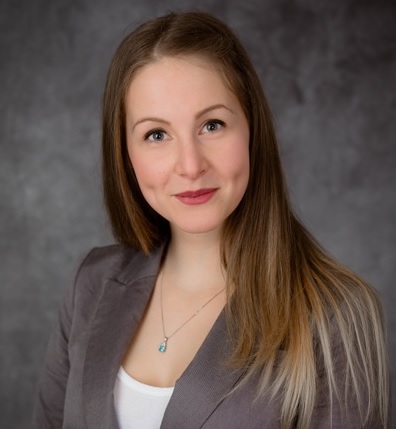 Business Administration student Naomi Dean (pictured at right) knows a thing or two about inner strength and hard work. From a small farming town in British Columbia, she moved across the country, embracing a new community and a new educational direction; now she plans to make waves in the business world.

And she's off to a great start. Today (March 4, 2016), Naomi was presented with the prestigious Frank H. Sobey Award for excellence in business studies.

Each year, eight full-time undergraduate students in Atlantic Canada are chosen as recipients of the Frank H. Sobey Award – a $20,000 award (per recipient) to support the development of future business leaders.

"I thought it was a prank," Naomi says. "I have never won anything like this and I didn't think I was even being considered."

Naomi, an Accounting major and Management minor, thought her background in social work or her past employment in small town Saanichton, BC would weaken her application. Her mentor Gabrielle Durepos, Assistant Professor of Management at the Mount, encouraged Naomi to submit an application that told the story of her journey to today.


Her past
Naomi was just 16 years old when she lost her mother. As her only parent, Naomi considers her mother her inspiration and the strongest woman she has known. With her grandparents nearby, Naomi supported herself as a teenager, quickly proving herself in her first job at Shoppers Drug Mart and climbing the ranks. After graduating from high school and travelling the world, she chose to pursue a career in social work in the hopes that she could help others overcome obstacles similar to her own.

Naomi made the switch to accounting when her deep commitment to others made facing their hardships too difficult. With an aptitude for numbers and an entrepreneurial spirit, she looked for another way to help. "With accounting you can be a support for people, you can help them through good times and tough times," she says.


Her present
Naomi currently works at Conrad Accounting, a firm that counsels small businesses, while also studying full-time at the Mount. She is the Vice-President of Finance on the University's Business and Tourism Society (self-titled "the money lady") and tutors many of her peers. And she is actively involved with on-campus events that empower other students to be business leaders.

Through the process of applying for the Frank H. Sobey scholarship, Naomi has come to realize that success is not just a list of items on your resume, but it's also the relationships you build and the community in which you invest yourself.

"Winning this award has really impacted my confidence," she says. "I can be a big part of the business world, but I also want to make sure that people who have struggled, like I have, know that they can succeed too."


Her future
Naomi will complete her degree this year and has set her sights on becoming a Chartered Professional Accountant. She hopes to one day start her own accounting firm that works to help small businesses. With her authentic approach and desire to empower others helping to propel her, she will undoubtedly continue to succeed, but for Naomi, "just being able to apply is reward enough."

Congratulations, Naomi, on being named a recipient of the Frank H. Sobey Award!