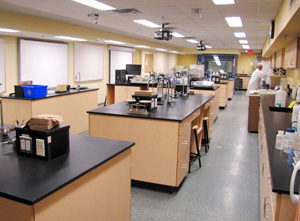 Mount Saint Vincent University (the Mount) is pleased to announce the opening of a newly renovated multi-purpose student space, as part of its Facilities Improvement Project (FIP).
Made possible through a combined $3.4 million investment with the Provincial and Federal Governments, the new facilities offer students state-of-the-art chemistry and biology labs, a common gathering area, meeting rooms and a multi-faith contemplation and reflection room.

"We're very pleased to be able to bring these new facilities and technologies to our students, and are thankful for the partnerships with the provincial and federal governments that have made this possible," says Dr. Ramona Lumpkin, President and Vice-Chancellor at the Mount.  "With these improved facilities, the Mount will continue to meet the changing needs of our diverse student body."
The new facilities will accommodate the needs of students in a variety of ways. With a common space, students can access wireless internet and socialize, or they can meet as groups or study in additional break-out rooms. In addition, the multi-faith contemplation and reflection room is open to all students and members of the Mount community. 
Partially funded under the Government's Economic Action Plan, this project is part of the Knowledge Infrastructure Program (KIP), a two-year, $2 billion economic stimulus measure to support infrastructure enhancement at Canadian post-secondary institutions. 
"Our government is pleased to support the work of Mount Saint Vincent University's world-class researchers," said Senator Stephen Greene, who attended the Grand Opening on behalf of the Honourable Tony Clement, Minister of Industry. "Through Economic Action Plan investments such as this, we are not only creating jobs and stimulating economic activity now, when it is needed most, but also positioning Canada for long-term prosperity."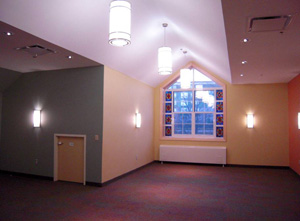 "This newly renovated space will further contribute to the high quality education offered at the Mount," said Education Minister Marilyn More.  "These projects will have an impact right now and also leave a legacy for students in the future."
The Mount's Facilities Improvement Project includes more than 40 initiatives that will ensure the University remains fiscally responsible, environmentally and economically sustainable and that students, staff and faculty are receiving the best University experience possible.
About Mount Saint Vincent University
Recognized as a leader in flexible education, applied research, and a personalized approach to education, Mount Saint Vincent University is nationally recognized among undergraduate universities in Canada for our success in Social Sciences and Humanities Research Council grants and for having one of the lowest student-to-professor ratios. The Mount is committed to providing the best university experience for all members of our community and to developing thoughtful, engaged citizens who make a positive impact on their world. For additional information about the University, visit msvu.ca.

-30-

For more information contact:
Akiko Lovett
Public Affairs
441-0505