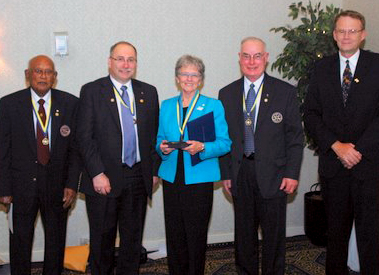 Congratulations to Interim President and   Vice-Chancellor, Alexa McDonough who was recently honoured at the Rotary Club of Halifax Annual Spring Dinner with a Paul Harris Fellowship. 
The fellowship is awarded to those who have shown outstanding service in their community within the principles of Rotary International.  Dr. McDonough was recognized for her passion and advocacy for women in politics and for her efforts on international development, peace advocacy and foreign policy issues. 
 "It was a pleasure for the Rotary Club of Halifax to recognize and honour the outstanding work Ms. McDonough has shown through her leadership of peace initiatives throughout the world," says Paul Frank, the President of the Rotary Club of Halifax.  "Striving for a peaceful world through understanding and co-operation is at the forefront of Rotary International and Ms. McDonough has demonstrated this through her lifelong work."
Dr. McDonough was presented with a commemorative pin and certificate, which is a prestigious token of the Paul Harris Fellowship.
Pictured above (l-r): Bridge Pachai, Paul Frank, Alexa mcDonough, Jim Axell and Don MacKenzie.