Whether it is her work supporting undergraduate students in her role as Manager of the Centre for Academic Advising and Student Success at Mount Saint Vincent University or her volunteer contributions to the Alexa McDonough Institute for Women, Gender and Social Justice, Erin's passion for lifelong learning will leave anyone inspired. It's a passion that has led Erin to graduate with a Master of Arts in Education (Lifelong Learning) as valedictorian – her third time graduating from MSVU and her second time serving as an MSVU valedictorian.
Erin's valedictory address appears in the Education Spring 2021 Grad Celebration Video, which will premiere  on May 28 at 3 p.m. (AT) on MSVU's Facebook and Youtube pages.
We asked Erin to tell us about her time at MSVU and what's next. Read on for what she had to say.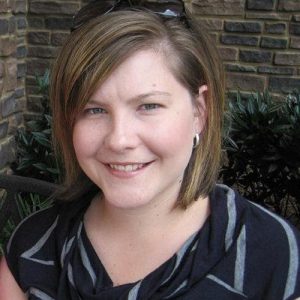 Hometown: Minasville, Nova Scotia
Degree being awarded: Master of Arts in Education (MAEd) in Lifelong Learning
Previous education completed (with year of graduation): Bachelor of Public Relations (2004); Bachelor of Education (2008). Both programs completed at MSVU.
What does it mean to you to be named valedictorian?
Being named valedictorian is an opportunity to connect with my fellow graduates across Education programs in the spirit of collectivity and community. It is a chance to highlight some of the themes we have encountered throughout our studies, including the role we can play in contributing to more socially just educational institutions, communities, workplaces, and societies. Being named valedictorian is very special, and I would like to express my sincere appreciation to my faculty for the nomination.
Why did you choose to study at MSVU?
MSVU is known for its distinguished Education programs. I completed my Bachelor of Education over 10 years ago at MSVU. I knew I wanted my next degree to focus on adult and higher education and this is why I selected the Master of Arts in Education in Lifelong Learning.
What did you like most about your MSVU studies/program?
I enjoyed the opportunity to experience both practical and theoretical approaches to Lifelong Learning. I had the opportunity to work as a research assistant with Dr. Susan Brigham and Dr. Donovan Plumb. I presented research at academic conferences in the Atlantic region with fellow graduate students and on my own in Saskatchewan. I fulfilled my practicum placement with the Teaching and Learning Centre at MSVU under the guidance of Dr. Donovan Plumb. Lastly, but certainly not least, I engaged in my own research for my thesis on working-class women in higher education under the supervision of Dr. Marnina Gonick. These opportunities have been transformative and have allowed me to see that there can be a place for me in the vast world of academic research.
What surprised you about MSVU (or your program)?
I was thrilled with the number of opportunities for student engagement outside of the classroom setting. There are many events where students can meet one another and develop communities of practice. Also, students in the Lifelong Learning program are introduced early on to numerous opportunities for participation in academic conferences as attendees and presenters. There is a strong sense of community amongst faculty and students in the Graduate Studies in Lifelong Learning program.
What class, professor, project or learning activity has held the most meaning for you? Why?
My thesis has held the most meaning for me. I conducted original research on a deeply personal topic and of great interest in my current work in student academic support services – working-class women in university. Writing a thesis was a goal I set going into the Lifelong Learning program; however, I wondered if I could complete such a significant academic endeavour. Fortunately, I had validating experiences in my coursework that led me to keep my goal of writing a thesis alive. There were times when I struggled to see an end in sight as my work obligations took precedence over my time and thoughts; however, I had tremendous preparation, support, and patience from my thesis supervisor. I persisted and wrote a thesis that I am proud of.
Before the pandemic, how were you involved on campus during your time as an MSVU student?
As a student, I completed my practicum with the Teaching and Learning Centre, where I organized and facilitated a book club for faculty called TalkAboutBooks focused on books related to teaching and learning. I am also a staff member on campus and my role is Manager, Centre for Academic Advising and Student Success. I am a staff representative on the Alexa McDonough Institute Steering Committee and the MountAbility Steering Committee.
Were you involved in any research as part of your studies? If so, please tell us about that.
I conducted my thesis titled "Exploring the constitution of Canadian-born working-class women's subjectivities in higher education through Collective Biography" under the supervision of Dr. Marnina Gonick using the feminist methodology of Collective Biography. This involved collaborating with a group of women from working-class backgrounds who attended university to share and write memory stories about our experiences of being working class while in university. Universities are not always hospitable places for underrepresented students, and working-class experiences and ways of knowing are not typically valued in this realm of higher education. My thesis aimed to explore how dominant discourses about social class and the affective processes generated by these discourses shape working-class women's sense of self in university. My hope is that my research creates an awareness of how class inequalities play out and are perpetuated in university.
One of my favourite aspects of my thesis research was working with a group of amazing women who volunteered to participate in the Collective Biography writing workshops. We developed a strong sense of community through the sharing of our personal stories. Since social class is not often acknowledged in Canada, we all welcomed the chance to talk about our working-class backgrounds and experiences.
Tell us about any experiential learning opportunities you were part of – including co-op, internships, practica and service-based learning?
I was able to complete a practicum with the MSVU Teaching and Learning Centre under the supervision of Dr. Donovan Plumb, where I developed and facilitated a book club for faculty and staff. This was meaningful because I could practice what I was learning in my program – learning in action. I also enjoyed connecting with faculty. I work at the Mount in academic support services, the opportunity to work with faculty and strengthen my connections with them meant a lot.
What is your favourite location on campus and why; or did you study entirely online?
Throughout my studies at MSVU, the library has been my favourite location on campus. I feel curious, inspired, and focused there. I am bound to see familiar and new faces in the library. Often, there seems to be a silent yet powerful recognition from all who are present there that we are a part of a great university community.
If you could share just one piece of advice with your pre-MSVU self, what would it be?
I would tell myself that my rural, working-class background and the experiences and knowledge I have gained are valuable and can be a source of confidence.
What's next for you?
I am sure there is more education and research in my future. I am not sure what this will look like yet; however, I am excited about the possibilities. In the meantime, I will be presenting my thesis research at the virtual Adult Education in Global Times Conference in June.
---

We're ensuring transformative teaching and learning. Learn more about this MSVU Strategic Plan Theme »