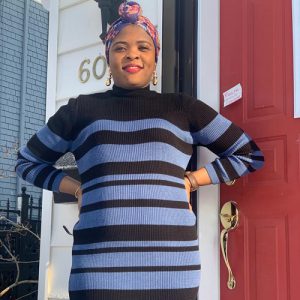 After moving from Nigeria to Canada in 2019 to further her education, Hajarat Sunmonu is now the first to graduate with Mount Saint Vincent University's new Graduate Certificate in Health Communication and Aging. Hajarat has received her certificate and her master's degree in Family Studies and Gerontology, and her achievements will be recognized as part of the online grad celebrations on May 28, 2021.
"It was quite interesting to do the certificate," says Hajarat. "Through the program, I learned about health culture, the personal narratives of people who have gone through cancer or other health challenges, and how to use these narratives to support other people with the same conditions. When people come out and share their journeys, it encourages others to open up and helps people know what to do at the appropriate time."
It's fitting that Hajarat is the first to graduate with this graduate certificate, given that she was also the first student to enrol in the new program, says Dr. Tracy Moniz, Associate Professor, Department of Communication Studies and the faculty coordinator for the Health Communication and Aging program.
"We are proud of her achievement," says Dr. Moniz. "It is a tribute to her motivation, dedication, and engagement in all she takes on."
The certificate is offered jointly by the departments of Communication Studies and Family Studies & Gerontology, with Dr. Moniz collaborating with colleagues in both academic departments to plan and organize program activities and to support current and prospective students. The certificate can be taken on its own or in tandem with a master's degree in either Communication Studies or Family Studies and Gerontology. The program responds to a growing societal need in this area and is the first of its kind in Canada. Dr. Moniz says the certificate is designed to equip students with specialized knowledge of the interplay between human communication, aging and health.
"Our students gain insights into the complex relationships between the process of aging, the social forces shaping that process, and the communication factors that connect these two domains," she says. "They also come to appreciate and apply theories and current research that place communication at the centre of how we understand individual aging and societal impacts of an aging population."
The four courses comprising the certificate engage students in progressively more complex, challenging and pressing issues and themes around health communication and aging. Seminars and discussions focus on communication dynamics in intergenerational relationships, analyzing and communicating policies affecting older people and their families, challenging myths of dependency, use of social media and general ageist attitudes, communicating health disparities of particular groups such as Indigenous peoples, cultural groups, LGBTQIA+ individuals, and the impact of COVID-19 on older adults. The courses in the program continually evolve to reflect what is happening at the intersection of health communication and aging in Canadian society.
"Our society is experiencing unprecedented growth in the older population," said Dr. Janice Keefe, Professor and Chair in the Department of Family Studies and Gerontology and Director, Nova Scotia Centre on Aging. "Health is an integral theme across the aging continuum – from preventive, healthy, and active aging to continuing care policies and practices and, eventually, end of life. This situation creates a unique opportunity to connect two areas of expertise at MSVU – Health Communication and Gerontology."
With increased numbers and diversity of older people in Canada, the program provides an important opportunity to explore key questions and issues and to learn more about how communication serves as an essential link between health and aging.
"Communication affects the quality of care and service older persons receive and their ability to maintain their health. Communication also affects their ability to navigate and cope with the changes and/or challenges that accompany aging," said Dr. Amy Thurlow, Professor and Chair in the Department of Communication Studies. "Gerontology challenges stereotypes that encourage ageism and examines the impact of aging from individual, community, and societal perspectives."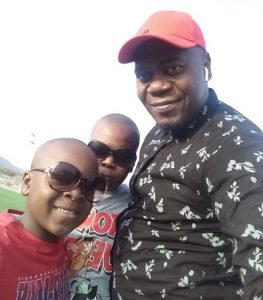 Hajarat is now working to find employment in her field and to get her Nigerian nursing qualifications recognized in Canada. At the same time, she'll be continuing her efforts to bring her husband and children, ages 6 and 8, from Nigeria to Canada so they can live together as a family again – she last saw them when she came to Halifax to attend MSVU in September 2019 (not long before the start of the pandemic). But, even with the challenges of being apart from her family and moving to a new country to become a full-time student, Hajarat says her experience at MSVU has been very positive.
"It was really, really good at MSVU – it's a really good school. Because it's a very small environment, you can navigate well. It's been a lovely experience," she says.
---

We're ensuring transformative teaching and learning. Learn more about this MSVU Strategic Plan Theme »