Mount President to new students: "Welcome home."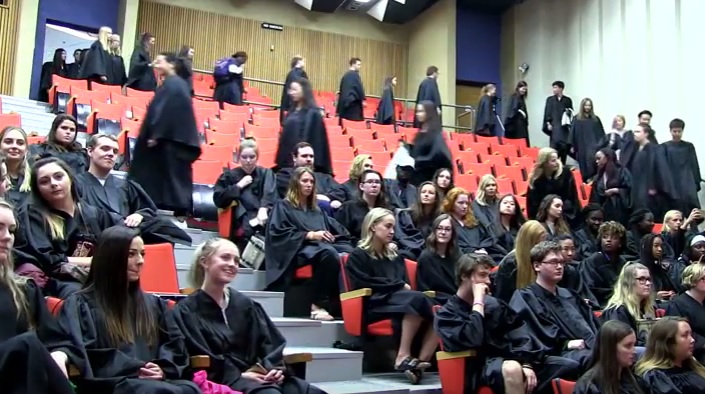 On Sunday, September 3, new Mount students were piped in to the auditorium in the Seton Academic Centre – the same auditorium in which they will sit as graduates in the not too distant future – in a matriculation ceremony that marked the start of their academic journey at the Mount.

As part of their first academic procession, students donned their academic robes and were officially welcomed into the Mount family by university officials.

In her matriculation address, Dr. Mary Bluechardt, Mount President and Vice-Chancellor welcomed the students and families gathered, pausing to celebrate the success that has brought each incoming student to this point.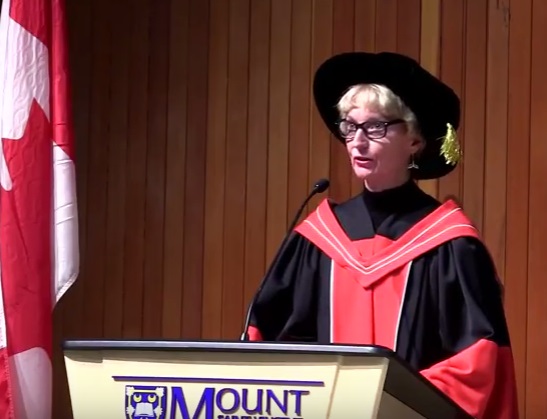 Reflecting on what lies ahead, Mary noted, "You will share in a very rich culture here at the Mount. You're joining a community of students from more than 60 countries around the world. I look forward to meeting you and encourage you not to be a stranger. You are welcome here, this is your university and your home for the next while. And I say to you with all warmth and sincerity, welcome home."

The Mount Students' Union President Alex Cuming encouraged new students to get to know their Students' Union and get involved in campus activities. "We've been working really hard to make this the best possible year for new and returning students," he said. "Regardless of where anyone comes from this is a place where you can really be you."

Justin Corcoran, Mount alum and former Mount Students' Union President served as guest speaker at the event. Justin reflected on his start at the Mount seven years ago and his transition from high school to university. At the Mount, he said, he was allowed to be himself and, ultimately, become a leader.

Justin likened his journey to a game of Mario Kart. "Some days I felt like I was in 'Rainbow Road', searching for the next item so I could make my next move, trying not to fall off the path, seeing who was ahead and who was behind me." But no matter your journey, Justin encouraged new students to seek the support they need from their fellow Mount community members.

Watch videos of Matriculation 2017 speeches here:
– Dr. Mary Bluechardt, Mount President and Vice-Chancellor
– Alex Cuming, Mount Students' Union President
– Justin Corcoran, Guest speaker, Mount alum and former Students' Union President

Or watch the full ceremonyhere.