Honorary degree recipient, June 1995
On June 15, 1995, while First Lady of the United States, US presidential candidate Hillary Clinton made a special journey to Nova Scotia where she was named an honorary Doctor of Humane Letters by Mount Saint Vincent University.
Clinton holds several honorary degrees from such universities as New York University, St. Andrew's University (Scotland), Ulster University (Ireland), and the University of Pennsylvania, but it is believed that her degree from the Mount is her only honorary degree from a Canadian university.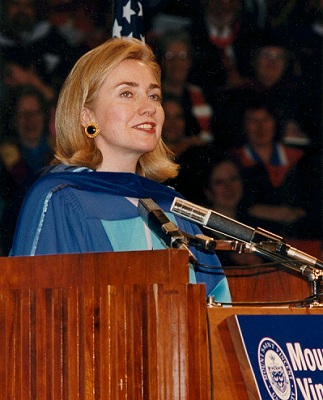 As a university with a long-standing commitment to the education of women, the selection of Clinton as the recipient of a Mount honorary degree was fitting.

---
"Investing in the lives and well-being of girls and women is, in many respects, the quickest route to economic and social progress," Clinton said. "I want to thank this university and all who support it for giving not only voice, but life to that mission."
— Hillary Clinton at the Mount, June 1995

---


Then Mount president Dr. Elizabeth Parr-Johnston noted at the time, "Mount Saint Vincent University takes great pride in bestowing this honour on a woman who has spent much of her life advancing the role and contribution of women in the context of community service, family and professional accomplishment."
Parr-Johnston and Clinton share academic backgrounds – both are graduates of Wellesley College and Yale University.
Clinton addressed those gathered at the Mount to celebrate her honorary degree, emphasizing the importance of educating women. A Mount newsletter article from the summer of 1995 noted: "Mrs. Clinton challenged those in attendance as well as leaders around the world to make education a top priority."
"Investing in the lives and well-being of girls and women is, in many respects, the quickest route to economic and social progress," Clinton said. "I want to thank this university and all who support it for giving not only voice, but life to that mission. In many ways it's the best investment any society could make."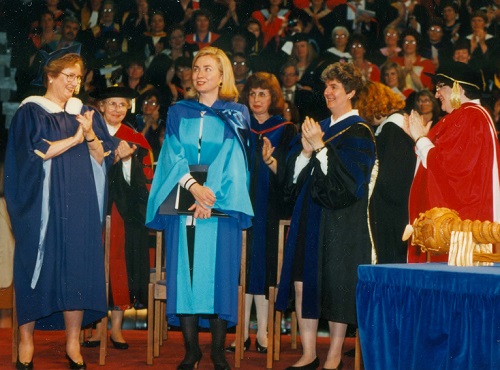 In a note sent to Parr-Johnston following her return to the White House, Clinton wrote: "I thoroughly enjoyed my time on your beautiful campus, and I am very proud of my honorary degree from Mount Saint Vincent University."
Of note, a local newspaper article published at the time of Clinton's visit to the Mount quoted an unnamed faculty member as saying, "She'd make a good president too."

Watch Clinton's address at the Mount,
June 1995