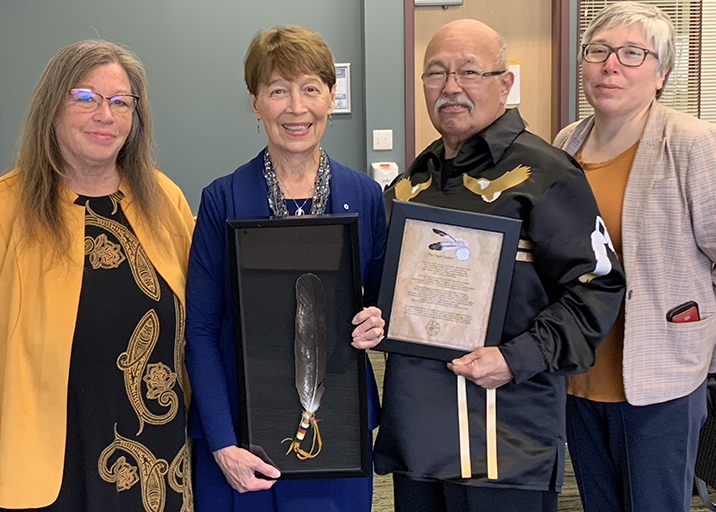 Earlier this week (April 20, 2022), Ramona Lumpkin, CM, PhD was presented with an Eagle Feather by the L'nu members of the L'nu Advisory Circle at MSVU. For many Indigenous Peoples, the Eagle Feather is the highest honour that can be bestowed. It signifies gratitude, accomplishment and deep respect.
The presentation was made during a luncheon to say Ne'multes (see you again) – not goodbye as there is no Mi'kmaq word for goodbye – to Ramona who finishes her term as Interim President of MSVU on May 1 (she previously served as President of MSVU from 2010 to 2017). The L'nu Advisory Circle at MSVU provides important guidance on initiatives in support of Indigenous learners and communities, including Truth and Reconciliation efforts.
In his presentation, L'nu Advisory Circle member Dr. Donald Julien (Executive Director of The Confederacy of Mainland Mi'kmaq and the recipient of an honorary degree from MSVU) explained the significance of the Eagle Feather.
The Eagle Feather is sacred to many Indigenous Peoples. A strong and powerful bird, the Eagle is afforded high respect as a messenger to the Creator. The Eagle Feather is a link between the People and the Creator.
Ramona expressed her deep gratitude for the significant gift and for the guidance provided to her by the members of the L'nu Advisory Circle, and Indigenous leaders and community representatives. In the fall of 2021, Ramona led the university in a ceremony of apology and commitment in response to MSVU's role in the tragedy of residential schools in Canada. The Sisters of Charity Halifax, the founders and previous owners of MSVU, had members who staffed two residential schools.
Coincidentally, Ramona was presented with her Eagle Feather on the same day that Patrick Small Legs-Nagge was reconnected with his. Patrick's feather went missing on campus earlier this month and it was found outdoors by Sean Lawrence, a member of the Facilities Management team.