High spirits and well wishes were notable during Dr. Joël Dickinson's November 4th installation as the 14th President and Vice-Chancellor of Mount Saint Vincent University.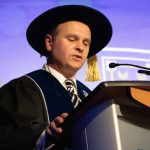 "In our search for a new leader, we were looking for someone who lives and breathes the mission, vision and values of the Mount," said Tyrone Cotie, Vice-Chair of the MSVU Board of Governors, who opened the installation ceremony. "We found all of this – and more – in Dr. Dickinson."
Tyrone noted Dr. Dickinson's positive presence on campus and hands-on approach to her new role. "Anyone who's seen Dr. Dickinson in action over the past four months would agree that her wearing sneakers makes good sense, since she has truly hit the ground running here at the Mount."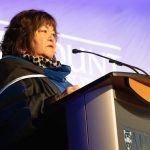 Dr. Sheila Cote-Meek is a friend and mentor of Dr. Dickinson's and Vice-President of Equity, People and Culture at York University. She addressed attendees and spoke of Dr. Dickinson's life-long commitment to equity, diversity, inclusion and accessibility.
"When I think of a university president in this context, in this time and in this place that we're living, I can think of no one better to fulfill that role here at your university. Joël and MSVU are aligned in their values and their goals, which is critical in any leadership role today. Anyone who knows Joël knows how important EDIA is to her."
MSVU's Chancellor Dr. Margaret Mary Fitzpatrick, S.C., led the changing of academic dress that marked Dr. Dickinson's official installation, assisted by the university's two vice-presidents: Dr. Brook Taylor, Interim VP Academic and Provost, and Gabe Morrison, Interim VP Administration.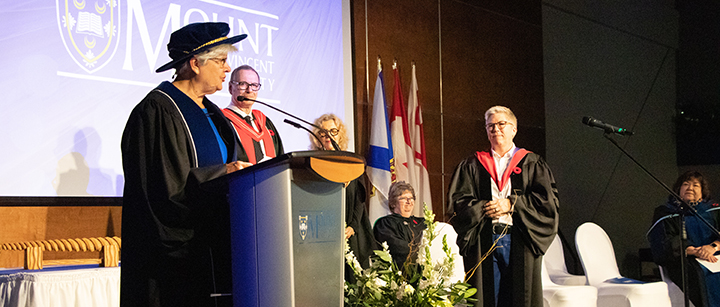 ---
A series of additional salutations were presented by representatives of four university constituent groups, including Katerina Allan (President, MSVU Students' Union), Dr. Susie Brigham (President, MSVU Faculty Association), Jeremy Neilson (Manager of Student Recruitment, representing non-teaching staff) and Joanne Bernard (President, Mount Saint Vincent Alumni Association).

---
In an address that featured her vision for MSVU (and was delivered with her signature sense of humour), Dr. Dickinson expressed her love of MSVU and excitement for the future of the university. She highlighted her appreciation of the university's purpose. "I couldn't have landed at an institution that is better aligned with my priorities: access, impact and advancement of women," she said.
Dr. Dickinson shared her story as a first-generation university student. She also noted that MSVU is a special place that provides opportunities for those who may have experienced barriers in their own academic journey. "MSVU prioritizes opening doors to higher education that otherwise remain closed for too many," she said.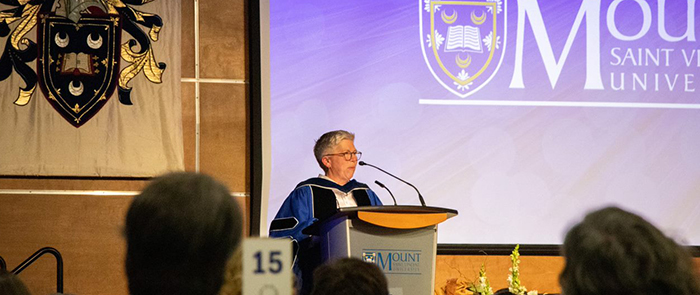 ---
"We all know that education changes lives, societies and communities. And, the world is a better place when more diverse people have access to higher education," noted Dr. Dickinson. "We welcome and support ALL students to achieve their academic goals."
Looking to the future, Dr. Dickinson stated that MSVU has been challenging the status quo for nearly 150 years, "And we're not done trailblazing better paths. In fact, our next 150 years stand to be just as groundbreaking as our last 150!"
A heartfelt video was played to round out the ceremony, featuring the perspectives of MSVU students past and present, including 4th year chemistry student Tia Tower. "I just want to thank Joël for everything that she's done, and what she brings to our campus," Tia said.
As a fitting exit and with the audience clapping along in celebration, Dr. Dickinson and the rest of the speakers left the stage to the sounds of "Signed, Sealed, Delivered" by Stevie Wonder.