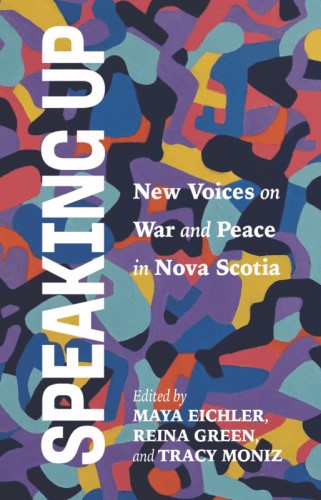 MSVU professors Dr. Maya Eichler, Dr. Reina Green, and Dr. Tracy Moniz have co-edited a new book that spotlights diverse and historically marginalized perspectives on war and peace in Nova Scotia.
Called Speaking Up: New Voices on War and Peace in Nova Scotia, the book was released this month by Nimbus Publishing.
"The story of Nova Scotia's history is usually presented through the lens of military history. Lost in that narrative are the less visible stories of war and peace: contemporary stories told from outside the military community; anti-militarist stories; and stories of soldiers who don't fit the white, cisgender male, heterosexual norm," notes a description of the book on the Nimbus website.
"Speaking Up: New Voices on War and Peace in Nova Scotia brings many previously neglected voices to the fore — voices of current members of the Canadian Armed Forces and military veterans, members of the African Nova Scotian and Mi'kmaw communities, refugees and immigrants displaced by war, historians and other academics who study war and militarization, artists who reflect on war's impact, and peace activists who vigorously protest against the militarization of the region" (Nimbus). The book aims to inform a more comprehensive understanding of the impact of war on Nova Scotia while challenging the dominant military narrative.
Voices featured in the more than 30 stories in the book include Darl Wood, Sylvia Parris, Peter Dykhuis, Jessica L. Wiebe, Paige Farah, and Juanita Peters.
MSVU-affiliated voices in the book include Dr. Catherine Baillie Abidi (assistant professor in Child & Youth Study), Dr. Susie Brigham (professor in the Faculty of Education), Dr. El Jones (assistant professor of Political and Canadian Studies), Catherine Littler (MSVU alum), Catherine Martin (L'nu Advisory Circle member and former Nancy's Chair), Dr. Deborah Norris (professor in Family Studies and Gerontology), Dr. Leigh Spanner (post-doctoral fellow at the Centre for Social Innovation and Community Engagement in Military Affairs or SICEMA), Jenna Stewart (MSVU alum), and Dr. John Whelan (adjunct faculty in Family Studies and Gerontology, and affiliate of SICEMA).
Each of the three members of the project's interdisciplinary editorial team from MSVU brought to the project a diverse academic perspective of their own.
– Dr. Maya Eichler (Political and Canadian Studies and Women's Studies) holds the Canada Research Chair in Social Innovation and Community Engagement and is the director of the Centre for Social Innovation and Community Engagement in Military Affairs at MSVU. Her current research focuses on gender and the armed forces, military sexual violence, military-to-civilian transitions, and community stories of war and peace.
– Dr. Reina Green (English) teaches courses in early modern literature, including the drama of the period, and in contemporary Canadian drama. Her research reflects the range of her teaching and focuses on performance and the actor-audience relationship. One of her recent projects has been on memorialization and performance. She has published in several book collections and academic journals.
– Dr. Tracy Moniz (Chair, Communication Studies) teaches courses in writing, gender and media, and health communication. Her research has engaged with questions about gender ideology in news discourse, particularly in times of war. She is the editor of Writing History: A collection by new writers, volume 3 (Life Rattle Press 2013). She currently explores the role of narrative and reflective writing in professional education and practice.
Speaking Up: New Voices on War and Peace in Nova Scotia is available for purchase direct from the publisher, as well as from local bookstores and online retailers. A book launch is planned for 6:30 p.m. on November 30 at the Halifax Central Library (Paul O'Regan Hall) – all are welcome.
Co-editor Dr. Maya Eichler and contributor Marianela Fuertes will be interviewed by Jeff Douglas on CBC Radio's Mainstreet NS at 5:20 p.m. on Thursday, November 10. Listen live online.
---
Learn more: MAYA EICHLER: Let's speak more of peace when we remember war (Opinion piece, Saltwire) "Remembrance as it is currently practiced is focused on a narrow story of the past — on the tragic loss of military lives on our side. Recognizing and mourning this loss is important. But in and of itself, it may not be enough to pave the path towards peace. To do that we need to include other stories in our act of remembrance."