Fall convocation 2017
Mount Saint Vincent University (the Mount) officially installed its 13th President and Vice-Chancellor today, Dr. Mary Bluechardt, while celebrating the achievements of several hundred graduates and the tremendous work of honorary degree recipient Winnie Byanyima, Executive Director of Oxfam International.
At today's convocation ceremony held in Halifax, Nova Scotia, more than 350 graduates from 21 countries crossed the stage from Arts, Science, Education, and Professional Programs to accept a wide range of certificates, diplomas and degrees and become part of the Mount's network of more than 34,000 alumnae.
Installation of the Mount's new President and Vice-Chancellor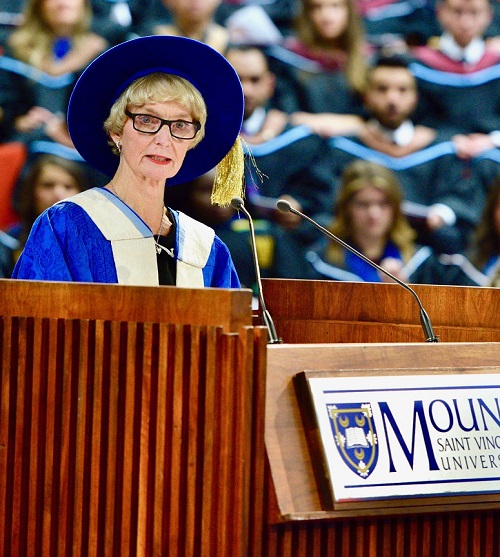 An experienced academic and administrative leader,
Dr. Mary Bluechardt
joined the Mount on July 1, 2017 and was officially installed on November 5. In her installation address, Dr. Bluechardt noted, "As President and Vice-Chancellor at the Mount, I have been given the opportunity to make a difference at a valuable institution, and it's a responsibility I don't take lightly. We know education opens doors, changes lives and impacts society, which translates into a responsibility for all of us leading educational efforts."
Dr. Bluechardt called on graduates to support others as they begin their careers or pursue additional studies. She said, "You are citizens of a world that needs your insight, your caring, your thoughtfulness, your compassion and your commitment to all people and, in particular, efforts that support our most vulnerable citizens and enable the success of the marginalized. I hope your education has not just imparted the knowledge you need to do your future work, but also the passion and tools you need to make sure that work is done or applied in a way that is just."
Honorary degree recipient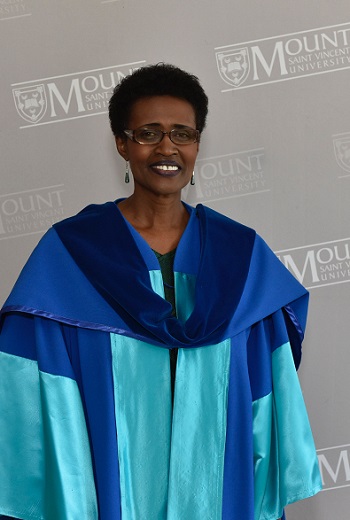 The Mount bestowed an honorary degree on
Winnie Byanyima
, Executive Director of Oxfam International and a global women's rights leader, human rights defender and authority on economic inequality.
Born in Mbarara, Uganda, her activism was first inspired by the courageous women in her village and her family. Today, she continues to support women's rights and social justice movements around the world.
In her address, Ms. Byanyima described hiding her shoes in her school bag on her three-mile walk to school as a young girl so she'd be walking barefoot with her peers who couldn't afford shoes. "I could not understand and I could not accept that I should walk to school in a pair of shoes when my friends walked barefoot … All children feel the same way – that inequality is wrong. But as we grow up we are socialized to accept inequalities and accept injustices."
Ms. Byanyima noted that eight men now own as much wealth as the poorest half of the world. "We live in an age of unparalleled consumption for the richest and it's destroying the planet for all of us," she said. "I am angry that we are comfortably accepting these contradictions."
She called on graduates to choose to change the world by working to fight inequality and help build an economy and communities that value and respect the rights of all. "The time has come for the world to make a decisive break from this reckless and destructive path. We can choose to end extreme inequality," she said. "It is you who must take this fight forward. … Young people like you are changing the world. Be part of them, don't stand by."
Referencing civil rights activist Rosa Parks, also the recipient of an honorary degree from the Mount (1998), Ms. Byanyima said, "Don't accept the seat you are given, find your seat on the bus and help others to find theirs too. You have been given the skills through your education to make the world what it should be – free, equal, just, safe and prosperous for all. Your professors have inducted you into the Mount's long-standing tradition of women's empowerment and social justice. Oxfam shares this vision with the Mount."
Student prizes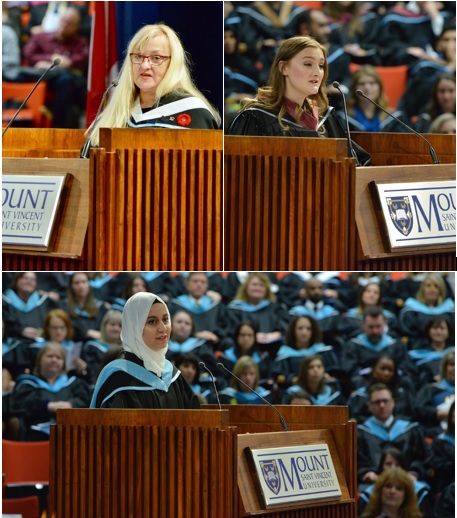 Valedictorian Prizes
for significant contributions to extracurricular activities at the Mount and in the community-at-large were awarded to:
Barbara I. Cochrane, BOA, BA, Sheet Harbour, NS
Bhreagh Ross, BPR, North Sydney, NS
Nadira Al-Nasleh, BSc, Med, Lod City, Palestine
The
President's Prize
, awarded to graduates whose generosity, energy and commitment enriches the university, was presented to:
Morgan Whynot (Bachelor of Public Relations), Kentville, NS
Membership to Kappa Gamma Pi
, the National Catholic College Graduate Honor Society, is based on scholarship, leadership, and service, and was presented to:
Jessica Cadman (Bachelor of Science – Applied Human Nutrition), Bedford, NS
Carla Jackson (Master of Education – Curriculum Studies), Bridgewater, NS
The
Graduate Thesis Award
is presented to a student who has completed a thesis of exceptional quality including evidence of well-developed, independent research skills and contribution to his/her academic discipline. This year's recipient was:
About Mount Saint Vincent University
As a leader in distance and experiential learning, and based on a strong tradition of social responsibility, Mount Saint Vincent University takes a personalized approach to education to nurture socially responsible global citizens. Founded in 1873, the Mount has been nationally recognized for having one of the lowest student-to-professor ratios, for providing students early access to valuable research opportunities, for its legacy in the advancement of women, and for facilitating critical advancements in food security, healthy aging, literacy, and childhood development.
---
Media contact:

Gillian Batten
Manager, Communications
Mount Saint Vincent University
902-457-6439 / 902-441-0505
Gillian.Batten@msvu.ca