Winter edition of paraMount is hot off the press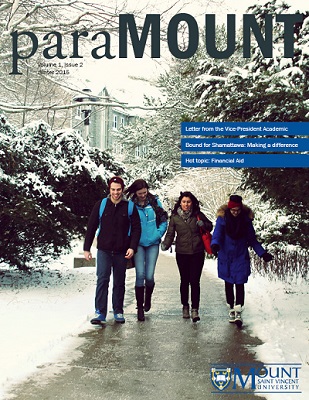 As valued members of the Mount community, we are delighted to share the second edition of the Mount's parent magazine with you.

From scholarships to loans and bursaries to student work opportunities, the winter edition of the Mount's magazine for parents – paraMount – features tips to help you and your student navigate the world of university finances.
paraMount connects Mount parents with the university community, but from the parent perspective. We share your commitment to the success of your student and we hope this magazine will provide some resources to support you in your role as a Mount parent.
We also hope to see many of you – parents of prospective Mount students – at our upcoming Explore the Mount event (February 27, 2015). We have sessions planned just for you and will also have many members of the Mount community on hand to answer any questions you may have. You're welcome to join in parts of the day with your student, or spend some time relaxing or connecting with us in the parent lounge. We look forward to meeting you and welcoming you to the Mount family!