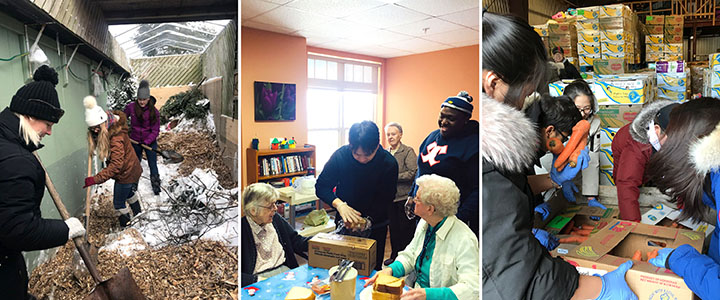 From the Mount's beginning in 1873, the institution has always promoted the importance of community, social justice and volunteerism. On the last Wednesday in January each year, these commitments are front and centre as the University marks Caritas Day – a tradition that remembers the generosity shown to the Mount in a time of great need.


The fire of 1951
In 1951, a devastating fire destroyed the one and only building that made up what was Mount Saint Vincent College at the time. Left with no space in which to teach or house students, the surrounding community of Halifax opened its doors with gracious offers of aid in the form of classroom space and accommodations. To remember these tremendous acts of kindness, the Sisters of Charity–Halifax established Caritas Day, or "A Day of Giving" for the Mount community. Directly translated, Caritas means "charity."

Fast-forward more than half a century and you'll find the spirit of Caritas alive and well. In lieu of classes on that day, students are encouraged to take to the community to give of their time and talents. In fact, any act of kindness is encouraged (no matter how big or how small).

Each Caritas Day, Mount alumna and Sisters of Charity Community Leader Sister Helen Danahy joins Business & Tourism students for a light breakfast before they head off campus to support various community organizations. In her brief remarks, she always reminds students of the importance of giving.

"Caritas means love, so it's a response to the love that the people of Halifax showed the Sisters and the students," Sister Helen said in an interview from last year all about Caritas Day.


Students give back
Many Mount departments have embraced the day over the years, chief among them the Department of Business and Tourism. They annually organize community volunteer opportunities for students. In past years, the department has collaborated with a variety of local causes, including Feed Nova Scotia, Phoenix House, Shelter Nova Scotia, Adsum House and more.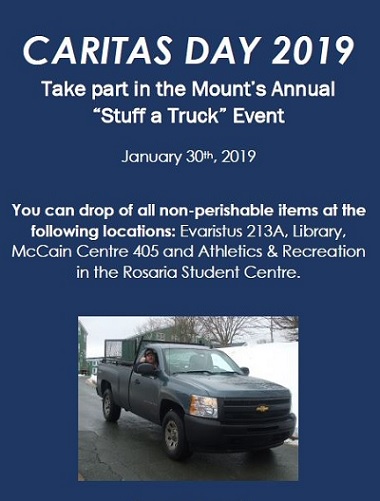 On campus, the Athletics and Recreation department hosts annual donation drives for local shelters, food banks and other charities. They've filled backpacks, grocery bags and even cars with donated non-perishable goods, winter clothing, personal items and more. And they're doing it again this year! Donations of non-perishable food items are welcome this Wednesday for the annual "stuff a struck event". See the photo at right for drop-off locations/details.
For students, Caritas Day is also an opportunity to rally peers in support of causes close to their hearts. The Mount's Student Athlete Mental Health Initiative (SAMHI) chapter is an example of this – they've previously hosted mental health awareness sessions for student athletes inspired by the #BellLetsTalk campaign.
Mount alumnae have also gotten in the spirit, taking Caritas-inspired acts of giving across the country. In previous years, alumnae in Calgary brought donations and treats to Ronald McDonald House, Inn from the Cold and the YWCA. Closer to campus, alumnae have given generously on Caritas Day to current students knocking on their doors for donations in support of local charities.
This year, students won't have to wait until January 30th to start giving back. The Mount Saint Vincent University Students' Union (MSVUSU) is hosting a clothing swap in partnership with the MSVUSU Psychology Society. All remaining donations will be brought to Adsum House. On Caritas Day, the Department of Business and Tourism will facilitate volunteering efforts with Hope for Wildlife, Prescott Group and the Sisters of Charity.
How will you give back this Caritas Day?