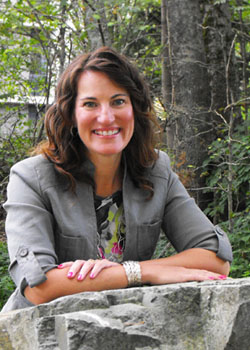 Sonya Horsburgh first said 'I do' to the Mount when she received her acceptance letter in high school. "Coming from the small town of Barrington, I knew I wanted the same warm and welcome feeling like I had at home. The first time I visited the campus when I was 16, I fell in love with it. This was the only school I applied to when I graduated from high school – I knew I wasn't going anywhere else."
Are we ever glad she came.
Today, Sonya is a full-time Mount employee, a two-time Mount graduate, former Mount athlete, and sister to two Mount graduates. Not only has Sonya grown as a person with the Mount by her side, but she has seen the Mount grow and evolve as an institution. "I remember living in residence in Evaristus, where the professor offices and classrooms are now. It's is incredible to think how things have changed around here but have managed to maintain that irreplaceable community feeling around campus."
During her first Mount experience, the four years of her undergraduate degree in Business Administration, Sonya began to learn what the Mount was all about. As a Mount athlete, Sonya learned time management and made life-long connections through her time playing for the women's soccer team. And she proudly adds, "We only ever lost one game!"
Sonya spent time all over Canada, both working and studying after completing her undergraduate degree. Feeling that she missed out on an opportunity by not choosing the co-operative education route during her undergrad, Sonya specifically looked for a co-op program when she enrolled in the Information Technology program at SAIT in Alberta.
After moving back to Halifax, Sonya found herself back at the Mount, saying 'I do' once again. "I actually was married in the chapel here on campus. It was a beautiful venue and this place is such a part of who I am."
This wouldn't be the last time Sonya returned to the Mount.
Sonya has been with the Co-Operative Education program for over a decade now and is currently the manager. In her role, Sonya has helped hundreds of students connect to potential employers for work term positions, giving students a leg up on their own career after graduation. Most students who choose the co-operative education route (offered in Public Relations, Tourism and Hospitality Management, Business Administration) will graduate with a full year of paid work experience.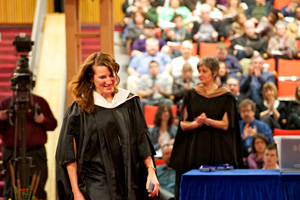 In November 2011, Sonya walked across the convocation stage for the second time to receive her Master of Arts in Communication (shown at right). When asked what keeps her here, she, like others, immediately refers to one of the Mount's great strengths: the people. "It's also the opportunities that I've been exposed to; it's such a close community there's a chance to get involved everywhere."
The Mount is happy to have shared in so many of Sonya's experiences, and looks forward to being a part of many to come.