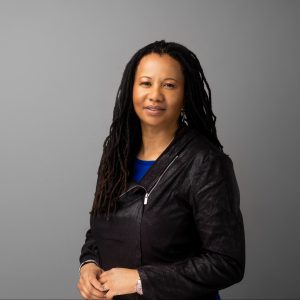 The MSVU Research Office is pleased to announce the next installment of its Black and Indigenous Speaker Series featuring Dr. Charmaine A. Nelson, Professor of Art History and Tier I Canada Research Chair in Transatlantic Black Diasporic Art and Community Engagement at NSCAD University where she is also the founding director of the first-ever institute focused on the study of Canadian Slavery.
Dr. Nelson has made ground-breaking contributions to the fields of the Visual Culture of Slavery, Race and Representation, and Black Canadian Studies. She has published seven books including The Color of Stone: Sculpting the Black Female Subject in Nineteenth-Century America, Slavery, Geography, and Empire in Nineteenth-Century Marine Landscapes of Montreal and Jamaica, and Towards an African Canadian Art History: Art, Memory, and Resistance. In 2017, Dr. Nelson was the William Lyon Mackenzie King Visiting Professor of Canadian Studies at Harvard University and in 2021 a Fields of the Future Fellow at Bard Graduate Center (NYC).
Dr. Nelson's talk, titled He 'is supposed to have with him forged Certificates of his Freedom, and Passes': Slavery, Mobility, and the Creolized Counter-Knowledge of Resistance, will take place on Friday, February 4, 2022 from 12 p.m. to 1:15 p.m. Atlantic Time. It will be held via Microsoft Teams.
All are welcome. If you have any questions, please email speakerseries@msvu.ca.
Advance registration is required; register here.
The MSVU Black and Indigenous Speakers Series is presented by the MSVU Research Office. The series highlights the research of Black and Indigenous scholars from across Turtle Island.