Three-time Mount grad, winner of the Graduate Thesis Award.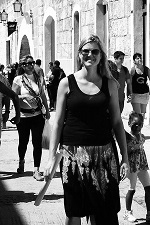 Amy is a three-time graduate of the Mount, having completed her Bachelor of Education degree, Master of Education in Literacy, and most recently, her Research Master of Arts program in 2013—for which she received the Cynthia Chambers Master of Arts Thesis Award from the Canadian Association of Curriculum Studies.
What is the "Mount Experience" to you?
For me, the Mount Experience has meant becoming part of a learning community that continues to shape who I am and the work that I do, specifically, my efforts as an educator to effect positive change in schools and in the lives of students through a restorative approach.
What has been your proudest moment at the Mount?
My proudest moment at the Mount to date was the surprise of receiving the Graduate Thesis Award at Fall Convocation in 2013. I was grateful that my thesis was receiving the positive recognition, and it was overwhelming to hear the Dean of Education, Dr. Sal Badali, read the thoughtful nomination letter submitted by my thesis adviser, Dr. Susan Walsh. My father was there and he was still crying when I met him in the hall. It was a very proud moment for my family, as well as the school community in which I teach.
If you could tell someone one thing about the Mount, what would it be?
There's no cookie-cutter Mount experience. Each one is made by the relationships you build with your classmates and professors and is based on your own goals, needs, wants, and interests. You are supported in the ways that you need to achieve your goals and also to stretch your learning in ways you may not have predicted or imagined—your experience is not over at graduation!
Where do you see yourself in five years?
In five years from now, I hope to be a PhD candidate finishing my dissertation, while still teaching in the classroom. I will continue to be actively involved in my community and traveling whenever possible!
How have you changed since you first arrived at the Mount?
My understanding of both myself and of the fundamental purpose of education have both changed and evolved. I have become a much more critical thinker and engaged community member. I have developed confidence in myself as a learner, a teacher and a leader.