This promising researcher is attracting national attention.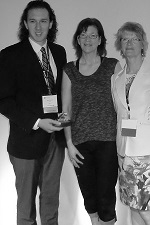 Brandon is a two-time Mount grad, first completing his Bachelor of Science followed by a Master of Science, Applied Human Nutrition – a program he completed with a bang. This past Spring, his accomplishments as a promising researcher were recognized with regional and national awards from the Dietitians of Canada. Brandon plans to pursue doctoral studies to continue making contributions to dietetic research.
What is the "Mount Experience" to you?
The Mount experience represents much more than 166 Bedford Highway. It represents my transition from an unsure undergraduate to a Master's graduate. It includes the relationships I developed, the training and experience that has allowed me to travel to national and international conferences to share my research and learn from others, and finally, the development of a clear career goal for myself.
What has been your proudest moment at the Mount?
My proudest moment at the Mount was being able to travel to the 2014 Dietitians of Canada Conference as it occurred shortly after I graduated. The conference represented a culmination of two years of work and allowed me to present my research to other students and professionals as well as be recognized by the professional body I was graduating into as the national recipient of the Morgan Medal.
If you could tell someone one thing about the Mount, what would it be?
The Mount is unique because of the sense of community within the school. Having a sense of community allows you to forget about the administrative stresses that can accompany university education as you know you can always pop your head into an office and have a friendly face waiting to assist you. Having less concern over administrative tasks allows for a more focused pursuit of intellectual development through academic and other endeavors.
Where do you see yourself in five years?
Ideally, finishing my doctorate in nutritional sciences and moving into a postdoctoral or faculty role – hopefully at a Maritime institution.
How have you changed since you first arrived at the Mount?
I'd say I'm more confident in my ability to take on challenges (academic or otherwise), my work ethic is stronger, I've seen more of the world, I'm more aware of how vast the academic world is, I'm a husband and a soon-to-be father, and I'd like to think I'm wiser.