'Women, Contemporary Aboriginal Issues, and Resistance' launches at the Mount.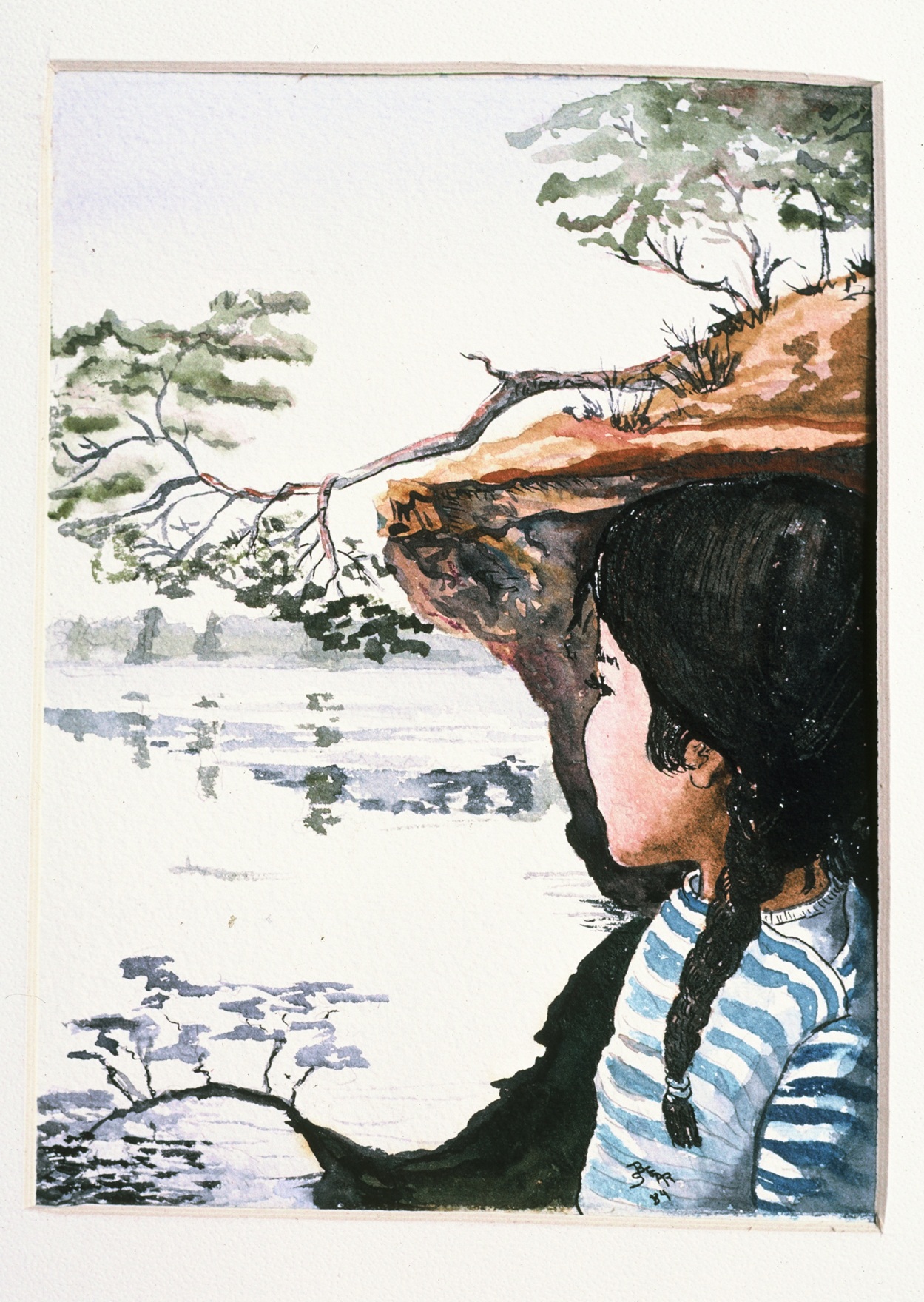 A new best practices kit will shine a light on what it's like to grow up Aboriginal, and what other young Canadians learn about indigenous peoples, as 'Women, Contemporary Aboriginal Issues, and Resistance' launches at Mount Saint Vincent University (The Mount) this week.
Designed by creative and intellectual leaders from across the country, the free curriculum will showcase the lives of fictional children as they grow into young adulthood, quickly becoming aware of the role their prejudices, Aboriginal roots, and friendships will play throughout their lives. The story plays out in three booklets, each with discussion prompts, and an 80-minute video featuring prominent lecturers, artists, and activists: Joan Glode, CM, Ursula Johnson, Shirley Bear, CM, Ruth Cuthand, and Dorothy Christian.
Photo at left: 'The Point' by Shirley Bear, 1984 (private collection.)
While the free interactive program can be of tremendous value as a complement to school curriculum, creators hope the kit engages Canadians beyond traditional learning environments.
"Our goal is to share the diverse stories of real Aboriginal people and friends in a way that's just as welcoming as a weekend book club," says Dr. Rita Shelton Deverell, principal investigator, project director, and former Nancy's Chair at the Mount. "We'd love for people to download the books, watch the video, and gather their friends to talk about what they're learning. These are perspectives that they may never have considered."
Designed to strip away the fears and stigmas that keep people from speaking openly about Aboriginal issues, the program will be shared at no cost with provincial high school authorities, libraries, university level faculties of Education and Aboriginal studies. The kit is currently available online and is already drawing praise from prominent educators.
"This is an excellent resource that I will use with my graduate and undergraduate students," says Dr. Jean-Paul Restoule, Associate Professor of Aboriginal Education at the Ontario Institute for Studies in Education. "Future teachers should be aware of this kit and I will recommend it to all teachers in our education program."
'Women, Contemporary Aboriginal Issues, and Resistance' grew from a 2012 course at the Mount, earning a Social Sciences, Humanities, Research Council (SSHRC) grant to disseminate a nationwide application of the experience. The kit will be the first publication produced by the newly renamed Alexa McDonough Institute for Women, Gender and Social Justice.
-30-
Media Contact:
Ben Boudreau
t. 902.457.6439 c. 902.441.0505
ben.boudreau@msvu.ca