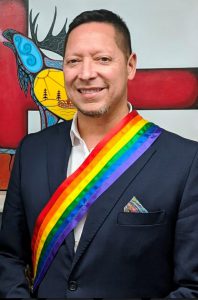 John R. Sylliboy, BA, MEd, and PhD student, made history at MSVU as the first student to defend his graduate thesis in Mi'kmaq and English, graduating with a Master of Education in Educational Foundations in 2018. More recently, he became the first to hold the dedicated Senate seat for an Indigenous representative at the university. Across his many roles at MSVU and in the community, John's a leader in building support and awareness for Indigenous communities, focusing on supporting Two-Spirit people.
John grew up in Eskasoni First Nation on Cape Breton Island, NS and Millbrook First Nation in Truro, NS. He moved to Quebec at age 17 to live with his aunt and uncle. After graduation and one year at CEGEP, John went overseas with Canada World Youth. The exchange program sparked John's interest in global interests, so he attended the National University of Costa Rica, graduating with a degree in International Relations.
John worked in education, youth leadership and community development for over 15 years in Costa Rica, Washington, DC, and Colombia. After being away from Mi'kma'ki, John returned home to work for a policy organization. In 2010, he co-founded the Wabanaki Two-Spirit Alliance, a regional organization to address gaps in services for Two-Spirit people. The experience in advocacy empowered him to learn as much about cultural perspectives concerning gender identity and sexuality as a Two-Spirit person.
It was a desire to learn more about his sexuality and Two-Spirit people that led him to enroll at MSVU as a mature student in 2010. He chose to pursue a Master of Education in Educational Foundations because of his interest in helping improve the lives of Indigenous youth, particularly Two-Spirit youth. John's Master's thesis titled Two Spirits: Conceptualization in a L'nuwey Worldview focused on understanding how gender identity and sexuality could be contextualized through oral tradition.
While a student at MSVU, John was driven to help the university better serve other Indigenous students. He was hired as the Director of Community Engagement to improve educational support for Indigenous students on campus. He was also instrumental in creating the external Aboriginal Advisory Committee and establishing the Aboriginal Student Centre.
In 2013, he established a consulting business focused on Indigenous education policy, youth leadership, career and education orientation, research, and community development projects.
During this time, John began to work with the IWK Health Centre in pediatric pain research using Etuaptmumk / Two-Eyed Seeing to understand Indigenous perspectives in health.
After graduating from MSVU in 2018, John began pursuing a Doctor of Philosophy in Education from McGill University. John's experience in research, community development and advocacy led him to explore regional and national projects. He is a member of the National2SLGBTQIA+ Committee to support the rollout of the MMIWG2S National Action Plan and the specific 2S Calls to Justice.
In the past three years, John began his journey in films. He was the cultural and language consultant for the movie, Wildhood, directed by L'nu filmmaker Bretten Hannam. John's acting debut as Mother Mary resulted in a nomination for a Ground Breaking Performance with Screen Nova Scotia. Last year, he wrote his first feature script, Kinap, for the Atlantic Film Festival Script Development Program. John is apprenticing to be a film producer with Hannam. His first documentary, Mawitai'kw, played at the Atlantic Film Festival in 2022.
Today, John continues to profoundly impact Indigenous students at MSVU and in the broader community. In addition to his Senate role, he serves on the L'nu Advisory Circle at the university, which provides essential guidance to MSVU on initiatives supporting Indigenous learners and communities, including Truth and Reconciliation and Treaty education.
---
MSVU's history is rich with the stories of countless people who have impacted the university and the broader community.
Over the course of 2023, we'll feature mini stories about 150 MSVU students, faculty, staff and alum. Check back often to meet more amazing MSVU people!