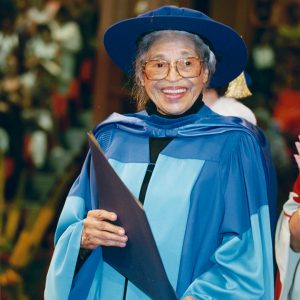 Rosa Parks, known as "the mother of the freedom movement" and "the first lady of civil rights," is an American activist who is celebrated worldwide for her pivotal role in the Montgomery bus boycott. In 1998, she received an honorary degree from Mount Saint Vincent University, recognizing her profound impact on the civil rights movement and lifelong commitment to promoting racial justice.
Parks' courageous act of refusing to surrender her seat on the Montgomery bus ignited the Montgomery bus boycott, a transformative event that led to the desegregation of public transportation.
Coinciding with MSVU's 125th anniversary, a special convocation ceremony was held in August 1998 to recognize Parks with an honorary degree, acknowledging her achievements in the fight for racial equity. Her visit to the MSVU campus occurred during her oversight of the Pathways to Freedom bus tour. The tour retraced the steps of the Underground Railroad and the Sixties freedom bus routes through the United States into Canada, to highlight the historical struggle of Black people for freedom and justice.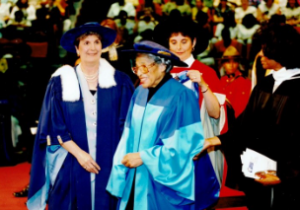 Throughout her life, Parks worked tirelessly with various organizations to challenge systemic racism and promote a more equitable society.  Her courage to challenge the status quo is a reminder of the transformative potential in individual actions.
---
MSVU's history is rich with the stories of countless people who've had an impact on the university and in the broader community. Over the course of 2023, we'll feature stories about 150 MSVU students, faculty, staff and alum. Check back often to meet more amazing MSVU people!