Janet (Pottie) Murray (BA '56) and her extended family share a long MSVU tradition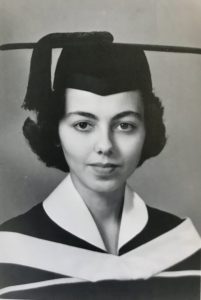 From their commitment to learning to their many notable accomplishments, the significant cross-generational connections Janet (Pottie) Murray and her extended family have to Mount Saint Vincent University aptly represent their chosen philosophy.
"Our family motto is to 'only connect', and that's what we do. My father-in-law was the newspaper editor of the Pictou Advocate and his son and grandson have taken it over. My husband is a writer, as well as a physician. We all like to communicate," says Janet.
Janet, who has been married to internationally renowned physician and Multiple Sclerosis expert Dr. Jock Murray for more than 60 years, discovered her love of creating connections and sharing information early on. After skipping two grades of school, she found herself among the youngest students at Mount Saint Vincent thanks to a scholarship from St. Joseph's Parish in Halifax's Hydrostone neighbourhood.
"When I started out, I wanted to study journalism and I was able to do that through the Halifax School of Journalism—a collaboration between Mount Saint Vincent, St. Mary's University, the University of King's College, the Chronicle Herald, CHNS Radio, and Imperial Oil," says Janet.
Realizing a dream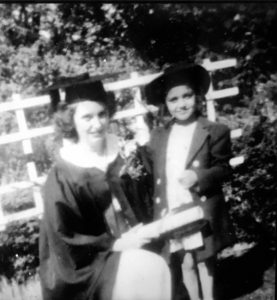 Janet was inspired to attend Mount Saint Vincent by her maternal aunt, Isabel Jean Hyland, who graduated as Class Valedictorian in 1944.
"The big influence, of course, was my aunt, and I started a bursary at MSVU in her name. She was a wonderful gal. She lived next door to us in the Hydrostone and she and I were very close. There is a picture of her and me on her graduation day. She's in her graduation gown and I'm standing beside her. She was valedictorian, and I said to my mother, 'I'm going to do that someday'," said Janet.
And that's exactly what she did, even after witnessing from her home in Halifax's north end the red sky from the fire that destroyed the main building on the Mount Saint Vincent campus in 1951. With substantial community support, the institution was fully rebuilt by the time Janet reached high school, and she graduated in 1956 from Mount Saint Vincent with a BA (Honors) in Philosophy and a Diploma in Journalism (Highest Honors) from the Halifax School of Journalism. Just like her aunt before her, Janet was Class Valedictorian.
Upon completing her studies, Janet entered a successful career in communications that began at Saint Mary's University, making her one of the institution's very first PR people. She then continued at CBC – first in the broadcaster's information services unit and then transitioning to radio and providing on-air consumer information. That's where she was working when she and Jock met, married and started their family.
Family tradition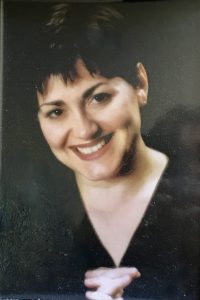 Janet's strong ties to MSVU extended to two of her four children. Daughter Suellen, inspired by her mother's history at and involvement with the university, was the first of the Murray siblings to attend MSVU – graduating from the institution with a Bachelor of Public Relations degree and serving as co-editor of The Picaro, the university's student newspaper during her studies.
"She chose Mount Saint Vincent because I was heavily involved with the university at the time," says Janet. "I stayed involved after I graduated – first, with alumni initiatives and then on the Board for about seven years, with three of those as Chair."
Sadly, Suellen died from glioblastoma in 2014. Her memory lives on at MSVU through the Suellen Murray Bursary in Science Communication established by her family and funded entirely by donations in memory of Suellen. Along with honouring their daughter, the award reflects Janet and Jock's shared interest in well-informed science communication, an area of importance for them given their respective backgrounds in science and journalism.
Son Brian Murray also attended the university, graduating with a Bachelor of Arts degree and, during his time there, meeting his wife Patricia Monaghan, who holds a Bachelor of Child Study from the institution. Just last year, their daughter Molly Murray carried on the family tradition, graduating from the university with a Bachelor of Science degree. Molly's studies for her degree weren't her first experience with MSVU – she actually started her education in the preschool at the university, which Janet was partially responsible for establishing as an alumna.
"I was delighted when Molly chose to attend Mount Saint Vincent," says Janet. "She was there quite often throughout her childhood for a variety of things, and both her mother and father also taught there – her mom in early education and my son taught in PR."
A legacy of achievement
When Molly graduated from MSVU, she carried forward not only the strong connections her immediate family members have with the university, but also an even longer history through many members of her grandparents' extended family.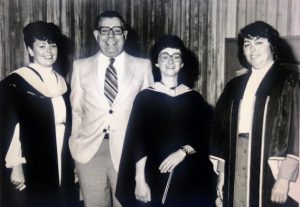 "Several of my Pottie cousins also graduated from MSVC and MSVU," says Janet. "One year at graduation, I had a picture taken with two of my cousins. I was Chair of the Board of Governors, my cousin Deborah Pottie Carnell, was President of the MSVU Alumnae Association, and my cousin Sharon Pottie Fisher was graduating with a Bachelor of Science. Another cousin, Sally Martell Campbell, graduated from the university and worked in the Registrar's Office for many years, and several other cousins attended or graduated from there as well."
Janet adds that Jock's grandmother, Ada McNeill Wallace, attended MSV Academy and was the first President of the Mount Saint Vincent Alumnae Association. "Of her 15 children, one of her daughters – Joan Wallace – received the first alumnae scholarship from the Mount, and another daughter – Elizabeth Wallace Lee, a professional skater – also attended. Jock's sister, Wendy Murray, is also a graduate of MSVU with a degree in Gerontology," says Janet.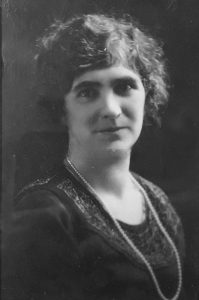 For Janet, these deep connections to MSVU have become a longstanding family tradition, representing achievements and experiences that will undoubtedly continue to inspire future generations to follow in their footsteps.