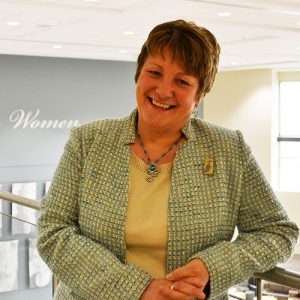 Along with being an MSVU Professor and serving as Chair of the Department of Family Studies and Gerontology, Dr. Janice Keefe is a mentor to graduate students and post-doctoral fellows and is recognized as one of Canada's leading researchers on aging, long-term care and family/friend caregivers.
Dr. Keefe's research expertise also encompasses continuing care policy and human resources, dementia care, and rural aging. She is the Lena Isabel Jodrey Chair in Gerontology and Director of the Nova Scotia Centre on Aging at MSVU and, from 2002-12, was MSVU's first Canada Research Chair in Aging and Caregiving Policy.
Dr. Keefe has led several multidisciplinary, Tri-Council funded projects focused on long-term care and home and community care and is the nominated principal investigator on a recently funded CIHR four-year grant that will assess quality of work life and work environment of staff in long-term care facilities, and their relationship to resident quality of care outcomes in Atlantic Canada.
In 2021, Dr. Keefe became a Fellow of the Canadian Academy of Health Sciences – one of the highest honours for individuals in the Canadian health sciences community. She has also won awards from the Canadian Association of Gerontology and the Global Ageing Network.
Dr. Keefe is Vice-Chair of the European-Canada Scientific Advisory Board of More Years Better Lives, and an active member of numerous initiatives including the Canadian Health Standards Organization Long-Term Care Services Technical Committee, the PEI Long-Term Care COVID Review Panel and the Newfoundland and Labrador Long Term Care Review Panel. She chaired the Ministerial Expert Panel on NS Long-Term Care and contributed to the Royal Society of Canada's report on COVID-19 and Long-Term Care.
Her tremendous work has, without a doubt, significantly impacted policy and practice in support of aging populations in Canada and beyond.
---
MSVU's history is rich with the stories of countless people who've had an impact on the university and in the broader community. Over the course of 2023, we'll feature stories about 150 MSVU students, faculty, staff and alum. Check back often to meet more amazing MSVU people!