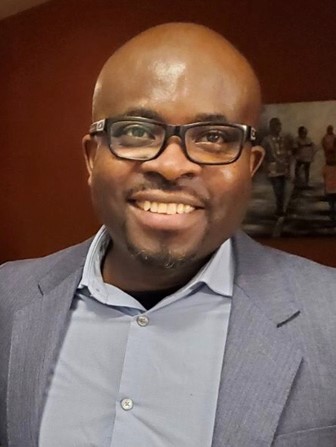 Putting his passion and drive to work for others comes naturally for Ayo Aladejebi, who has long shown a deep commitment to meaningful community service.
Serving as Director, Race Relations, Equity, and Inclusion at the Nova Scotia Human Rights Commission since 2021, Ayo leads efforts to advance human rights through education and awareness. Through his work, he guides educational programming and directs culturally appropriate, resonant, and meaningful service delivery to equity-seeking communities. In the past, Ayo has led initiatives supporting equitable municipal service delivery to communities of African descent in the Halifax Regional Municipality. These include the African Nova Scotian Road to Economic Prosperity Plan and the Anti-Black Racism Strategy and Action Plan.
Ayo's service extends to his commitment to volunteerism. He sits on the Board of Halifax Public Libraries, the Board of Connecting to Africa, and the Grants Committee of the Halifax Regional Municipality. He also supports the work of the African Nova Scotian Decade for People of African Descent Coalition and the Road to Economic Prosperity Advisory Committee.
Professionally, and personally, Ayo's worldview is influenced by Africentricity, Critical Race Theory, Liberation Theology, and Post and Anti Colonialism. Graduating from MSVU in 2015 with a Master of Arts Degree in Education in Lifelong Learning with a specialization in Africentric Policy and Research, he received a Senate Medal of Distinction and served as class valedictorian.
Originally from Lagos, Nigeria, Ayo has lived in Nova Scotia for more than 20 years.
______________________________________________________________________________
MSVU's history is rich with the stories of countless people who've had an impact on the university and in the broader community.
Over the course of 2023, we'll feature mini stories about 150 MSVU students, faculty, staff and alum. Check back often to meet more amazing MSVU people!