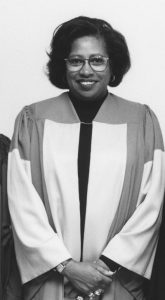 The late Daurene Lewis, CM, was an accomplished politician, nurse, educator, administrator, advocate, textile artist and volunteer. She was a leader across many communities and had many firsts to her name.
At MSVU, we were fortunate to call her a colleague while she led the Centre for Women in Business (CWB) as its Executive Director; the CWB is the only such university-based centre in Canada.
In light of her immeasurable impact, Daurene was awarded a Doctor of Humane Letters degree, honoris causa, from MSVU in 1993.
Born in Annapolis Royal, NS, she was a seventh-generation descendent of Black Loyalists. She trained as a nurse, eventually becoming a nurse educator in Nova Scotia and Ontario. In 1979, she won a seat on the Annapolis Royal Town Council. She was appointed Deputy Mayor in 1982, and, in 1984, became the first Black woman mayor in Canada. In 1988, she became the first Black woman in Nova Scotia to run in a provincial election.
After retiring from politics, Daurene enrolled in the Executive Master of Business Administration program at Saint Mary's University. Following her graduation, she became the Executive Director of the Centre for Women in Business at MSVU. In 2001, she became the Principal of NSCC's Institute of Technology; she was the first Black senior administrator at NSCC.
Daurene gave of her time and expertise as a member of the Premier's Council on the Economy, the Vanier Institute of the Family, the Board of Canada Post, the Advisory Council for the Order of Canada, and the Africville Heritage Trust (as chair). Among her many recognitions, she was named to the Black Cultural Centre's Wall of Honour (1994), and received the Global Citizenship Award commemorating the United Nations' 50th anniversary (1995) and the Queen's Golden Jubilee Medal (2002). She was made a member of the Order of Canada in 2002.
An inspiring trailblazer, Daurene made her community, province and country better.
______________________________________________________________________________
MSVU's history is rich with the stories of countless people who've had an impact on the university and in the broader community.
Over the course of 2023, we'll feature mini stories about 150 MSVU students, faculty, staff and alum. Check back often to meet more amazing MSVU people!