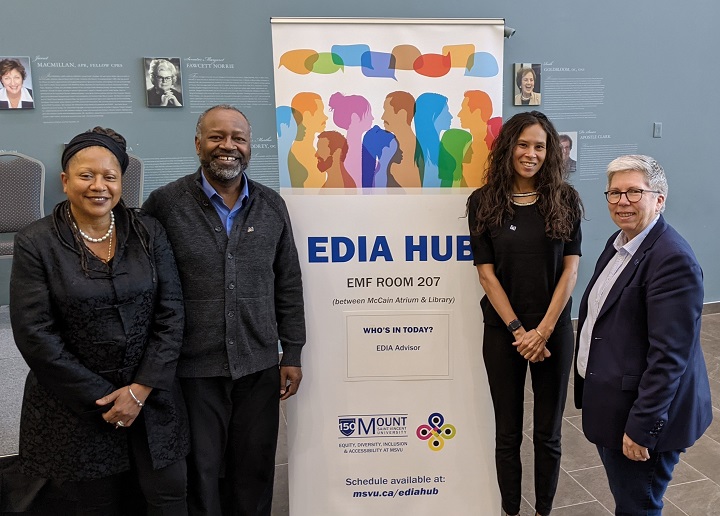 Mount Saint Vincent University celebrated the opening of a new EDIA Hub on campus on Wednesday, March 22, 2023. It was an initiative developed by MSVU President and Vice-Chancellor Dr. Joël Dickinson and EDIA Advisor at MSVU Delvina Bernard. EDIA stands for equity, diversity, inclusion and accessibility.
The primary focus of the EDIA Hub is to improve access for all members of the university community to EDIA resources available at MSVU and beyond.
As launch event emcee, Delvina Bernard described the hub's role to those gathered. "For students, faculty and staff from historically underrepresented groups, the EDIA Hub provides a space where they can access the resources that they need to support them, and that already exist here on campus. And for all others, the hub provides an opportunity to connect and share information and perspectives on advancing EDIA at MSVU."
The hub will also provide opportunities for collaboration, community-building, and communication among EDIA leaders at the university.
The project is in keeping with MSVU's deep commitment to ensuring a safe and welcoming place for all. EDIA is both a dedicated theme in MSVU's current strategic plan and a current running through the plan's many other elements.
The hub opening celebration featured guest speaker Robert Wright, MSW, RSW, who is a social worker, sociologist, and leader in cultural competence training.
Noted Robert, "This is what I think is the promise of an EDIA hub: a place that brings together all of the voices, all of the people, all of the services, all of the problems, all of the solutions … –  for us to begin to craft the solutions that are not only going to be essential for the university to flourish, … [but also] essential in helping this university to become the place where it continues to fulfill its promise, as a university built on the margins by the margins, to create a generation of leaders who can bring this message to the world."
MSVU President and Vice-Chancellor Dr. Joël Dickinson reminded that EDIA is all of us. "Though some of us at the Mount have had more direct involvement in EDIA related-work, please remember that it's not just one person nor one office. Each of us has a role to play in advancing EDIA."
At the event, Dr. El Jones, Assistant Professor, Political and Canadian Studies at MSVU, shared her poem Still We Rise, which speaks of the racism and discrimination faced by historically marginalized groups and yet the "generations of resistance that cannot be put down." Said El, "We have been advised to be patient and we're tired of waiting / We are the anarchists and the peacemakers / We have been trained for resistance."
The EDIA Hub is in EMF Room 207 in the space joining the Library/EMF to the McCain Centre Atrium.
Different EDIA resource leads will be in the hub on different days; an up-to-date schedule will be available on the hub's webpage. The following MSVU services are part of the EDIA Hub:
Note that all existing EDIA resource offices will remain; the hub is not where these resources will be located full-time. Rather, the hub will be an additional point of connection.
MSVU community members located off campus can connect with these services too. For more information, contact the individual resource leads via the linked list above or contact Delvina Bernard, EDIA Advisor, at Delvina.Bernard2@MSVU.CA or 902-457-6223.