MSVU education prepares alum to advise government leaders
"MSVU's Public Policy Studies program offers a great mix of economics and political studies along with the internship component of the program – it is very unique."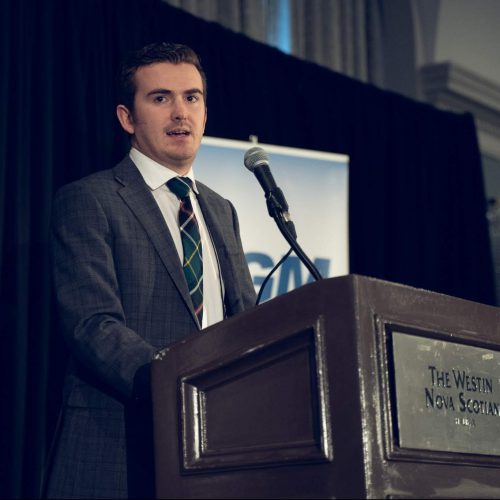 Currently serving as a Senior Advisor to the Premier of Nova Scotia, 2013 graduate Sean Joudry credits his Mount Saint Vincent University education with helping to launch his career. We recently spoke with Sean about how earning his Bachelor of Arts in Public Policy at MSVU prepared him for the work he does today.
Can you describe what your work involves?
It's essentially dealing with a wide range of issues that pop up day-to-day in government and providing advice and direction to make sure we, the Government of Nova Scotia, are accomplishing the goals the government was elected on in the 2021 election. So that means a focus on health care, the economy and jobs across the province, along with all the other things that were in the Solutions for Nova Scotians platform.
How would you say your time at MSVU helped to prepare you for the role you're in?
MSVU's Public Policy Studies program is great. The very diverse range of courses you take makes it different than a lot of political science or political studies programs across the country. That's what stood out to me when I was in high school looking at where to go. I had an interest in economics and business as well as politics. The Public Policy Studies program at MSVU really brings those areas together. There is also a great range of professors who have different areas of expertise on both the public policy as well as the political and economic sides. Having that public policy background has been so incredibly helpful for me, whether I'm engaged in research and trying to find out background details on issues or trying to apply different lenses to issues that are popping up on a day-to-day basis and making sure we have the bigger picture. That was certainly a focus of the program and the great professors who are still at MSVU.
Do you have any stories that stand out from your time at MSVU?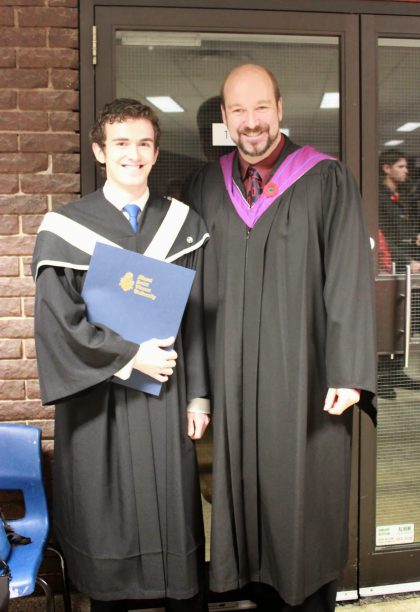 MSVU's Public Policy Studies program has an internship component which was invaluable to me. I got a job through the program one summer and ended up continuing with the employer part-time and then full-time during summers afterward. It also resulted in a job for me upon graduation. So, that was absolutely invaluable to my career. A lot of the connections I made there I still have today, and I consider many of my former colleagues to be friends.
I'd also say the professors at MSVU were always incredibly encouraging and trying to help their students make connections with people in business or politics. There's a great group there – including Jeff MacLeod, Michael MacMillan, Nargess Kayhani, Tammy Findlay and James Sawler. They were just so incredibly supportive. And I think when you're coming out of high school, you're used to smaller classes and to knowing your teacher. For some who go to different universities, they don't have those types of one-on-one connections. Being able to actually go to your professors and have conversations and ask for advice, that's just so incredibly invaluable. One of the reasons MSVU is such an excellent school is you can have those connections. It really makes a difference.
What else differentiates MSVU from other institutions?
I think the big one is the very close-knit culture at MSVU. Part of that is just because it's smaller, so you're likely to see the same people in the halls on a daily basis and in your classes. I think it builds a very unique culture when you're running into folks in your professional life later on who are also from MSVU. It's a really nice experience. And normally you can have a couple of connections one way or the other to a professor you might have had in common years back, or classmates. There is also such a diverse range of programs at MSVU and you're really able to connect with folks from different programs. I think on other campuses, people are a little more isolated. At MSVU, students share different experiences and expertise. It's meaningful to be able to connect from the Public Policy program with folks who might be in the sciences or other disciplines. It really allows you to gain insights and perspective that is difficult to do on other campuses where people are a little more separated across many buildings.
Do you have any advice for anyone who is at MSVU now or considering attending the university?
Definitely take advantage of the expertise of your professors and don't be afraid to interact with and reach out to faculty and staff who are in different departments to try to get a little bit of an outsider's perspective on your studies or issues you're interested in. And certainly take part in the great activities that are a part of campus life because there's a lot going on that allows you to get to meet people outside your usual bubble of classes. If I started over again I would do even more of that. Because once you get out of university and start your career, you really realize how just incredibly valuable it is to have those different perspectives to inform how you're looking at problems and trying to find solutions.