Mount Saint Vincent University (MSVU) celebrated several hundred graduates from 20 countries during its first in-person convocation ceremonies to be held in more than two years, due to the pandemic. Fall 2021 convocation ceremonies took place in Halifax, Nova Scotia on November 6 and 7, 2021.
Though this weekend's in-person ceremonies looked a little different than in years past – with participants spread over more ceremonies, and proof of vaccination and masks required – they were no less meaningful for those in attendance.
In her convocation address, Interim President and Vice-Chancellor Dr. Ramona Lumpkin called on graduates to use their gifts for the benefit of our community.
"Each of you has shown impressive persistence and resilience as you continued your studies, finished your degrees, and now receive your parchments during a pandemic. By combining that kind of determination with an openness to sharing your personal gifts, you'll go far – showing the world what everyday heroes can do."
Students crossed the stage from arts, science, education, and professional programs to accept a wide range of certificates, diplomas and degrees before becoming part of MSVU's network of more than 35,000 alumni.
Honorary degree recipients
During fall 2021 convocation ceremonies, MSVU bestowed honorary degrees on two exceptional community leaders: Margaret Anne Fountain, CM, and Jessie Jollymore. Dr. Lynn Jones also delivered a special address to graduates; Dr. Jones received an honorary degree from MSVU during its fall 2020 ceremonies, which were held online.
Margaret Anne Fountain, CM
Margaret Anne Fountain has had an unmatched impact across the arts, education and health care in Nova Scotia, underpinned by a belief in the power of youth.
In her address, she reminded graduates that they each have the ability to improve society. She called on them to challenge the status quo and be a generation of change agents towards helping address new and emerging issues, like poverty and climate change. She spoke to graduates about the importance of staying true to themselves and being fearless on their paths to success.
"If the world is going to get better, it is up to you. Life can be incredible, but your life will only be as good as you allow it to be. You have learned from your parents and teachers and now it's your turn to be you, to learn about you and the person you will eventually be. Earning your degree is not an endpoint, it's a beginning."
Margaret also encouraged graduates to stay connected to their university family. "Mount Saint Vincent University is now your alma mater, your nurturing mother," she said. "Like your own mother this academy has nurtured you, loved you, guided you, taught you, and then set you free to find your path. Remember your mother and call home from time to time."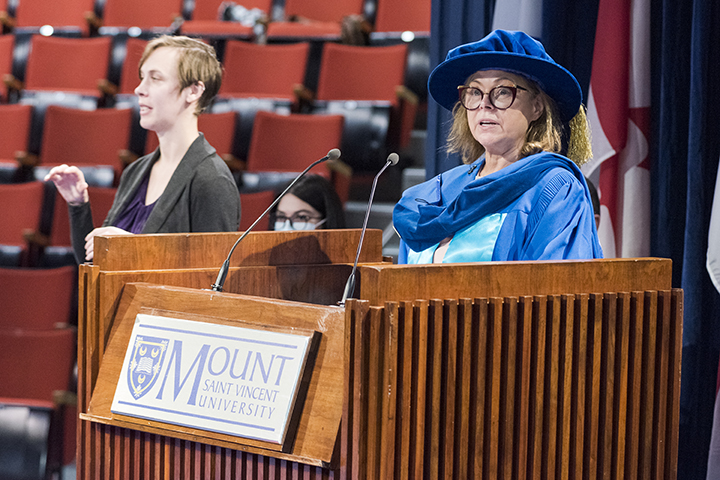 Jessie Jollymore
The founder of Hope Blooms Social Entrepreneurial Ventures Inc, Jessie Jollymore is an innovator and advocate for racialized youth and those at risk of food insecurity.
She told the story of the creation of Hope Blooms, a one-of-a-kind social enterprise in Halifax's north end. She spoke of the youth who inspired her to establish the organization and their history-making pitch on CBC's Dragon's Den.
The lessons Jessie imparted were inspired by the youth she has worked with. "If you want to grow as a person, it's very important to grow in generosity and gratitude – that's what the children taught me," she said, adding that all should seek to "be excellence. No matter where you are, when no one is looking, be excellence. In order to change a paradigm, we couldn't do the ordinary [at Hope Blooms], we had to do the extraordinary."
Her final lesson called on graduates to find a way to be in service. "There is always something for you to contribute to. Its inherent in who we are to pay it forward and to give back. I see greatness in every single one of you today. And service is in how you show up for the world, giving a smile, giving grace to somebody. It's in how we treat each other."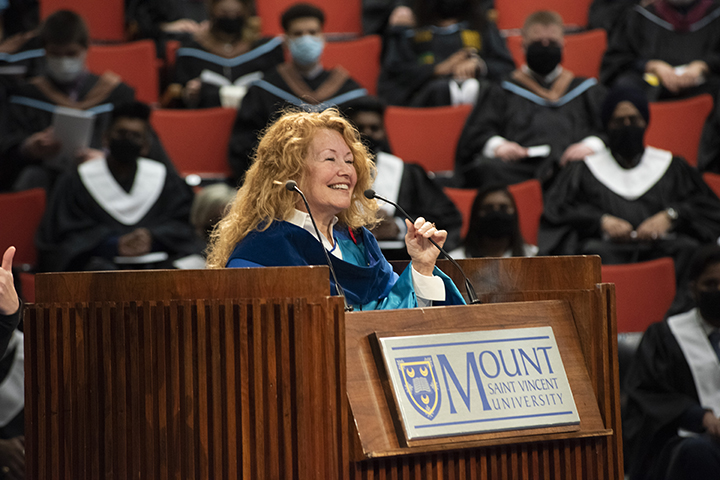 Dr. Lynn Jones
The recipient of an honorary degree from MSVU during the university's spring 2021 ceremonies held online, Dr. Lynn Jones addressed graduates of the Faculty of Education who gathered at the afternoon ceremony on November 7.
An educator, community historian, civil and human rights activist, labour leader, and an inspiring speaker, Dr. Jones spoke of the critical need to fight racism and the value of education in enacting change. She reminded of the history of anti-Black racism and shared several contemporary examples of racist experiences with devastating consequences.
"The struggle of people for equity and equality is, for me, a struggle for change as important as the air we breathe," she said. "These are challenging and exciting times. My generation stood on the shoulders of those that fought for social change before us, you too look to your elders to lead and inspire even as you act without approval to move forward and create the change that needs to be made. Let's champion this change – together."
Speaking of the value of education and the expectation that comes with it, Dr. Jones said, "The choices you make of care rather than punishment, understanding rather than judging, active listening instead of assumption, will be carried in the hearts of your students for years to come. You can build the world to come in the choices you make every day."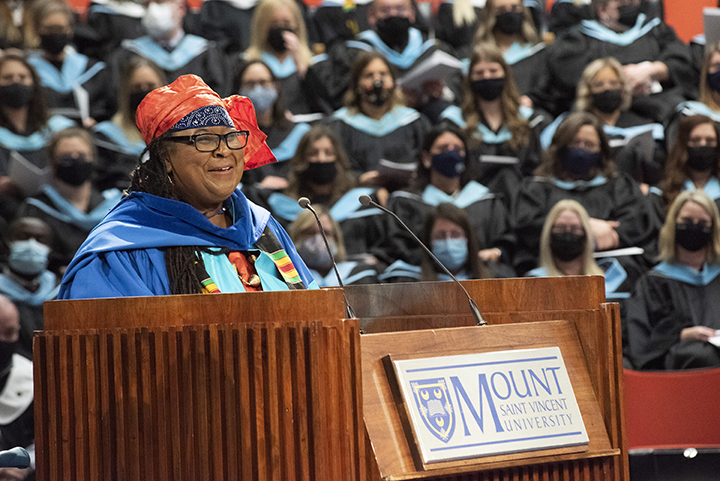 Student prizes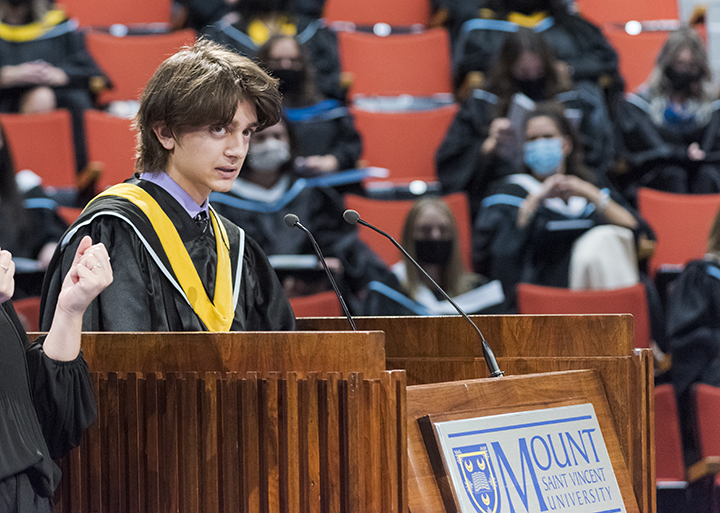 Valedictorian Prizes for significant contributions to extracurricular activities at MSVU and in the community-at-large were awarded to:
• Joshua Deal, Bachelor of Science (Hons) in Psychology, Halifax, NS
• Megan Cook, Bachelor of Business Administration, Halifax, NS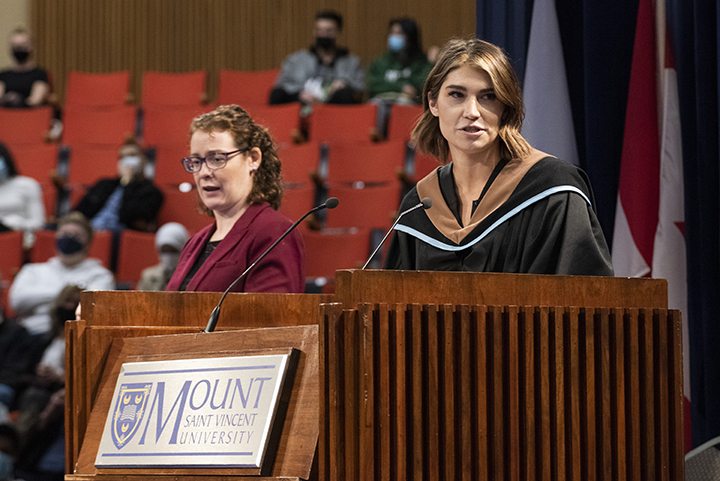 The President's Prize, awarded to graduates whose generosity, energy and commitment enriches the university, was presented to:
• Haoru Wang, Bachelor of Arts (Child & Youth Study) (Honours), Tianshui, China
• Sarah Greening, Bachelor of Public Relations (Co-operative Education Route), Clarenville, NL
• Eleftherios Michalopoulos, Master of Education, Studies in Lifelong Learning, Dartmouth, NS (Eleftherios also gave a special address to his fellow graduates.)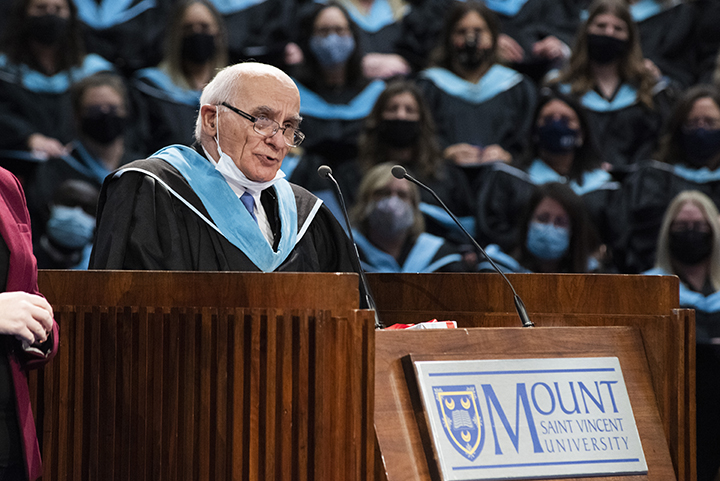 Membership to Kappa Gamma Pi, the National Catholic College Graduate Honor Society, is based on scholarship, leadership, and service, and was presented to:
•Hannah Chiasson, Bachelor of Public Relations (Co-operative Education Route), Sydney, NS
Graduate Thesis Award
•Marco Redden, Master of Arts in Family Studies and Gerontology, Halifax, NS, for his thesis titled "Meaningful Engagement among Care Home Residents with Dementia and Family Members:  A Critical Ecological Analysis"