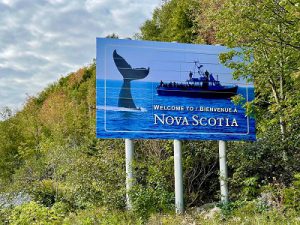 A stay at an historic resort, a whale-watching tour, gourmet meals and strolls through scenic communities – these are the makings of both a great vacation and an educational, interactive tour for a group of students from Mount Saint Vincent University (MSVU) enrolled in a Tourism Study Tour course.
Funded in part by the Government of Canada's Innovative Work-Integrated Learning (IWIL) program and CEWIL Canada's Innovation Hub (iHub), this experiential opportunity has been provided to MSVU students for several years now, but this is the first time it has taken place exclusively in Nova Scotia. As a result of pandemic restrictions, this year's closer-to-home itinerary was anything but limiting – perhaps even more beneficial thanks to opportunities to make local industry connections.
"Our trip this year was phenomenal – I got tons of hands-on learning experiences with unique cultures, saw a different part of the province I have never been to before, and I also made many new friends along the way," says student participant Katie Hape, currently studying in the Bachelor of Arts (Communication) program at MSVU.
Exploring rural tourism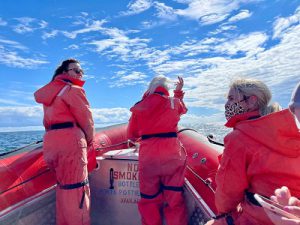 The tour is the basis for THMT 3380 – a Tourism and Hospitality Management course offered by MSVU's department of Business & Tourism. As part of the tour, 10 students and two faculty members enjoyed a stay at The Digby Pines resort at the end of September, exploring the communities of Digby and Bear River and visiting Digby Neck for a hike and a whale watching tour. And, while the study tour was filled with fun experiences, the students were also there to work – gathering information to support a project they will deliver at the end of the course. During their visit, the group met tourism industry professionals including Glenn Squires, the CEO of Pacrim Hospitality – the hotel management company that recently bought the Digby Pines Golf Course Resort and Spa with a plan to turn it into an all-seasons destination.
"Through the tour, the students get to see what's involved in managing a resort such as The Digby Pines and, in this case, they have the great opportunity of seeing somebody's vision that's going to take it and turn it into something else," says Dr. Candace Blayney, Associate Professor, Tourism & Hospitality Management at MSVU who coordinated the study tour together with Assistant Professor Maria Matthews. "In the industry, when you get a project like that, it's a very in-depth learning project because there are so many partners and stakeholders involved. You really have to understand what attracts guests and – with COVID as an added challenge – you need to consider how to make that resort successful and how to bring in the community as part of it."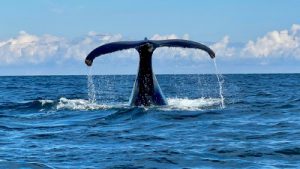 Candace says that the pandemic meant the study tour – which in the past has involved a trip to New York City – became more locally focused, but there are just as many learning opportunities.
"I think we always underestimate our own backyard, but COVID has helped put rural places on the map and locals have started to discover them. We've got to keep that going. That's one of the big challenges of any rural tourism product – capturing that target market that you're after," she says.
Presenting lessons learned to industry leaders 
The study tour participants are now creating a major presentation based on what they learned, says Candace. They'll be preparing a situational analysis, recommendations for program packaging, and a marketing strategy. When complete, the students will present their work to Glenn Squires and his team as well as provide a reflection paper outlining their learnings from the study tour experience. It's exciting for the students who are taking part.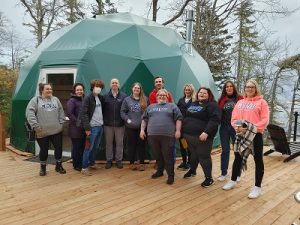 "I was thrilled to be chosen to participate in this study tour. It gave me a chance to develop a better understanding of how important tourism is for Nova Scotia communities and, specifically, how much tourism operators and businesses rely on mutual trust and collaboration," said student participant Peter Hradisky, studying in the Bachelor of Tourism and Hospitality Management program at MSVU.
MSVU is grateful for the support of CEWIL, an organization that shares the Business & Tourism department's commitment to experiential learning. "By offering innovative work-integrated learning (WIL) opportunities at our institutions across Canada, we continue to see growth in students' personal and professional competencies," says Charlene Marion, Director WIL at CEWIL Canada. "The skills and competencies gained through these experiences serve to support students as they transition to the workplace, entrepreneurial endeavours, or future studies."
Student Kelly Pawliuk-Coderre, also studying in the Bachelor of Tourism and Hospitality Management program at MSVU, agrees that the kind of direct, hands-on learning made possible by the study tour is essential and will contribute significantly to her success moving forward.
Two adventures in one course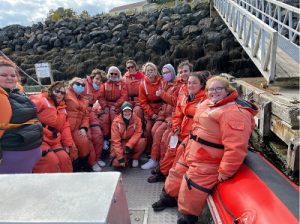 "My classmates and I depend on experiential knowledge for a more enriching university experience that prepares us for our careers. Being a fourth-year tourism student who is also working in the industry, projects like this – where we are immersing ourselves in the Nova Scotian and specifically Digby and Bear River cultures and traditions – are extremely important. Doing a deep dive into understanding how the resort can work with the local community puts all of our in-class learning into perspective. With my new understanding of the tourism experience and through this project, I feel like I can be part of a team that can help create a richer travelling experience for the next generation of tourists," Kelly said.
Students are also visiting a second rural resort, White Point Beach Resort, to research marketing and programming that they are using to be a four seasons destination. Dylan Meisner, the resort's general manager, will provide the students with a tour and answer questions about managing the resort. This visit will give the students an opportunity to explore another rural Nova Scotia resort, adding information and perspective to the competitive analysis they are completing for their Digby project.
Candace says she's looking forward to seeing how the students benefit from learning directly from the experiences of the tourism industry operators and entrepreneurs they met as part of the study tour, and she's confident they'll deliver a strong final project at the end of the course.
"It's so important that students get real life experience and see what it takes to run a business and make it successful. It means a lot when you can see how a business is run and interact with the people who work there and understand their passion for the industry and why they do what they do," she says. "The students are really hard workers and they're taking this project seriously. I'm very happy with what they've done so far. I think there are going to be some great ideas coming out of this." And some great future tourism sector leaders too.