The MSVU Business Administration program's major in Strategic Human Resource Management has achieved accreditation by Chartered Professionals in Human Resources of Nova Scotia (CPHRNS).

CPHRC is the national association representing human resources professionals. CPHR Nova Scotia is the local member association and governs local granting of the CPHR designation – a nationally recognized level of achievement in the field of Human Resources.
Through this accreditation, students graduating from MSVU with a Bachelor of Business Administration in Human Resource Management and a GPA of at least 2.70 are eligible to apply for a waiver for the CPHR National Knowledge Exam, putting them one step closer to achieving the CPHR designation. With the exam waived, applicants become CPHR Candidates and all that remains is a required three-years of applied HR experience.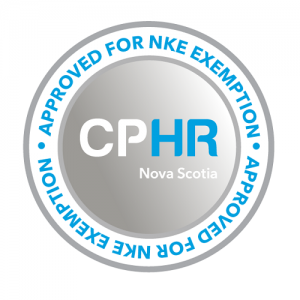 "This accreditation confirms the exceptional quality of the MSVU Business Administration program in Human Resource Management," said Dr. Peter Mombourquette, Business & Tourism Department Chair. "It means our students are getting an education that will set them up for success, starting with a leg up in achieving their professional HR designation."
The CPHR designation represents a commitment to a national standard of excellence and sets a benchmark for the practice of effective human resource management. It also emphasizes the strategic role of human resource management in organizational leadership and signifies that an individual has achieved and continues to actively demonstrate experience in the CPHR Competency Framework.
"We're pleased to work with MSVU to encourage the next generation of human resource professionals," said Nick Beynon, Chief Executive Officer, Chartered Professionals in Human Resources of Nova Scotia. "Through partnerships like this one, we're able to help equip Canada's workforce with people leaders skilled in ensuring successful workplaces and organizations."
This accreditation is retroactive, meaning that students who graduated from MSVU from 2015 onward with a Bachelor of Business Administration (major in Human Resource Management) are eligible to apply to have their CPHR National Knowledge Exam waived.
The news of this new agreement was shared at the MSVU Business & Tourism Department's 2021 Learners and Leaders conference held online today (January 28, 2021). The annual conference – now in its 46th year – unites students with experts in business. It's a chance for students to hear applied perspectives that complement what they're learning in the classroom, and one of a long list of extra-curricular opportunities in Business & Tourism at MSVU.