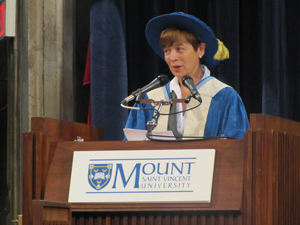 On Sunday, Oct. 24, nearly 500 students graduated from Mount Saint Vincent University (the Mount) during its fall Convocation ceremonies. Convocation is the beginning of an exciting journey for Mount graduates, who are now equipped with an advanced education backed by solid experience.
During the morning ceremony, the Mount installed its 12th President and Vice-Chancellor, Dr. Ramona Lumpkin. Dr. Lumpkin is a highly respected academic and administrative leader with over 25 years in the educational field. She comes to the Mount from Huron University College, where she was Principal of the undergraduate liberal arts institution affiliated with the University of Western Ontario.
 "I chose to join the Mount because I saw here a model of an educational community in which I could deeply believe," Dr. Lumpkin said during her installation speech. "We have much to be proud of in our past, and I'm confident that an exciting future lies ahead of us."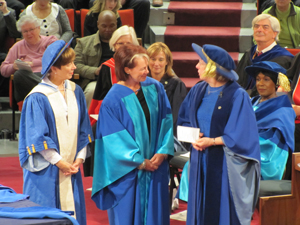 During the afternoon ceremony, Honorary Doctorates were conferred upon Arlene Dickinson and Josephine Johnson, two Canadian pioneers. Ms. Johnson has been an active member of her community for more than 60 years, and is an activist and advocate for the African Canadian people of Nova Scotia. Ms. Dickinson is the CEO of Venture Marketing Communications Ltd., and is a panelist on the Gemini Award winning series The Dragons' Den.
"I am thrilled to be honoured today by an institution that fosters independent thinking," said Ms. Dickinson, as she addressed graduates. "I encourage you all to think independently; don't let anyone else make your choices. Choose what's best for you, even if you make mistakes along the way, because it is the journey you should all love."
During each ceremony, awards were presented to many outstanding graduates.
The Valedictorian Prize was awarded to Jacquie Farrow-Lawrence, Master of Education (Lifelong Learning), and Lindsay Leighton, Master of School Psychology (MASP), who was also awarded the Senate Medal of Distinction.
The Graduate Thesis Award was presented to Pamela Blotnicky, MASP, and Gerald Bartels, Master of Arts in Public Relations (MAPR). Bartels also received the Senate Medal of Distinction.
The Kappa Gamma Pi award, which celebrates scholarship, leadership and service, was awarded to Bailey Williams, Bachelor of Public Relations, who also received the Senate Award of Distinction.
Noelle Peach, Bachelor of Arts, Advanced Major, received the President's Prize, awarded to a student who has displayed generosity, energy and commitment to helping enrich the university during their time at the Mount. She also received the Senate Award of Distinction.
For a full list of Senate Award and Medal of Distinction recipients click here.
Please join us in congratulating the Fall 2010 graduates of Mount Saint Vincent University.
For more information contact:
Akiko Lovett
Public Affairs
441-0505