On Monday, March 21, 2016, the Mount's new International Education Centre (IEC) officially opened its arms – and doors – to the community.
Previously housed in Evaristus Hall, the IEC has transitioned over the past many weeks to a renovated location in the Seton Annex. The renovation was made possible with funding from the Nova Scotia Department of Labour and Advanced Education.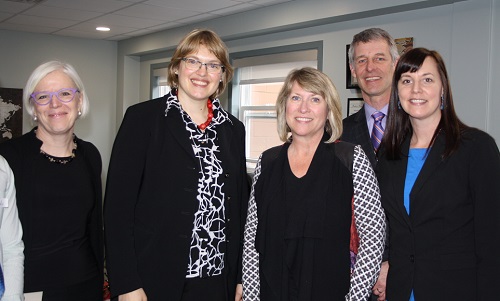 "We know that the Mount has been very welcoming to international students. I'm so delighted that we've been able to make this contribution to bring this lovely space to fruition," said the Honorable Kelly Regan, Minister of Labour and Advanced Education (pictured at right: third from left, with Mount representatives) speaking at the centre's open house today.
Welcoming the world to Halifax
"This is such an important, meaningful place for students," said Ute Fiedler, acting Director of the IEC. "Our dream is to make this the place on campus where people come if they need anything international. Whether it's services to help students settle in at the Mount or in Canada, help with English, or fun activities like open mic night and an International Kitchen Party – we want our centre to welcome everyone. We also want the Mount community to know that we have partnerships all over the world and want students to get out to grow."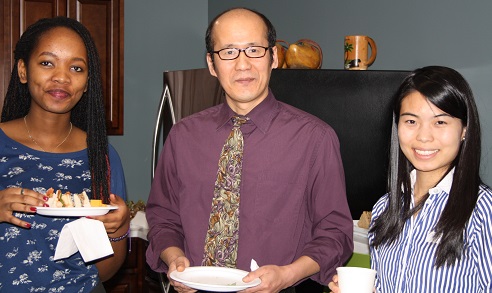 In its new space, the IEC has expanded to provide:
– A classroom to accommodate 25 students, used every day for English as an Additional Language courses;
– A student lounge, kitchen & study area;
– Offices for IEC management & teaching staff;
– Dedicated meeting space.



A hub for internationalization
The Mount's IEC currently assists over 650 international students on campus and about two dozen students abroad. More than 50 countries are currently represented on the Mount's campus. Fittingly, the IEC staff represent a variety of cultures themselves, hailing from the Philippines, China, Mexico, Germany, and more. The team's combined experience and range of backgrounds allow them to connect with a multitude of students and provide extensive opportunities for studying or working abroad. (Below right: Mount education professor Susan Brigham addresses open house attendees)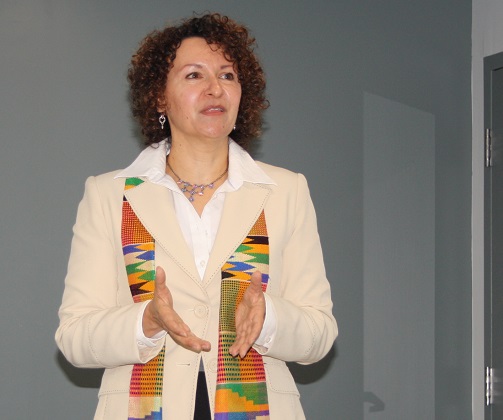 Prior to the move, the IEC used various classroom and meeting space throughout campus. The team held offices in Evaristus Hall, but always envisioned creating a central "hub" in which they could thrive and grow. The new space in Seton Annex has delivered just that.
"It is our aim for this space to bring together all different cultures and backgrounds to meet and learn from one another," Ute said. "Just by meeting new people, you can experience a world of cultures right here on campus."
Julie Hatfield, a Mount student and Global Engagement Assistant with the IEC, noted, "It is super important that we're always diversifying our Mount community. I really love what I do here." Inspired by her work with the IEC, Julie's now making plans to study overseas next year.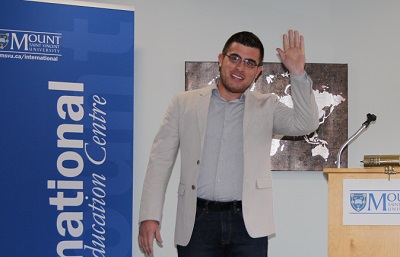 Aris Hernandez (pictured at left), a Mount student from Mexico, works as an International Student Liaison at the IEC and is also the international student representative with the University's Student's Union. "I love being around international students," he said at Monday's open house. "I feel so connected with everyone who works here and know they're so passionate about what they do. I'm really happy that we have this space now for students."


Campus' "best-kept secret"
Students already feel at home in the new centre, Ute said. "They've begun to use the lounge, the kitchen, the study space. It's perfect for them. We hope other students become curious… it might be the best-kept secret for studying in a quiet and comfortable space on campus."
From their new central, modern location, the Mount's International Education team looks forward to improving its delivery of services to international students, and also growing its capacity to assist all students on campus interested in studies abroad to #getOut2grow.
About the IEC
The Mount's International Education Centre (IEC) offers personal, academic, cultural and immigration advising to international students and any student or faculty wishing to study, research, work or conduct projects abroad. The IEC is also home to the Mount's English as an Additional Language Programs.