Meet Raf
Like most students graduating from high school, Raf Mikhael Peligro was excited to experience all that the world has to offer. But unlike most students, he decided to start his post-secondary journey by exploring life on the opposite side of the globe.
Raf found his way to the Mount from Cebu, Philippines. Now entering his second year of the Bachelor of Public Relations program, he says he believes he has found his path to success.
An international perspective
Raf was born in Davao City, Philippines and grew up speaking English, Tagalog and Cebuano. He moved to Cebu City with his family where he completed his schooling at Cebu International School, a small school of about 400 students from grades K-12. He graduated from the International Baccalaureate (IB) program, which included classes that qualified as university course credits. Raf notes pursuing an IB diploma was extraordinary preparation for university. "The IB program trains you to handle the pace and demands of university," he says. "Assignments are less of a shock because you're prepared to manage them."
Raf has always been involved in student leadership. He first became involved in his school's student council in the third grade, and he's held many leadership roles since. He also became very involved with helping new students transition into the school by providing tours to students and families and assisting students through their first days in classes. He also embraced his love for the stage by taking part in musical theatre.
Raf was inspired by his sister to take a worldly approach to his post-secondary education – she has studied in Singapore, United Arab Emirates, and Australia. He considered schools in the Philippines, Australia and Japan, and programs like international relations and political science. His guidance counsellor encouraged him to pursue options in Canada, which is what led him to discover the Mount.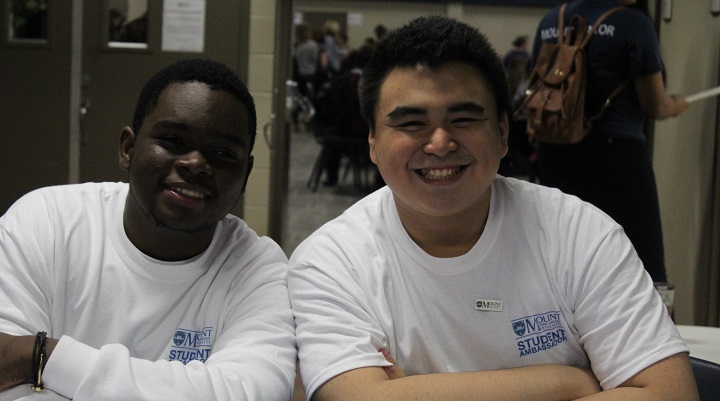 Raf first connected with the Mount through a university fair at his school, where he met
Student Recruitment
Officer and Mount Public Relations graduate Ashley-Jane Chow. Hearing her stories of the Mount and the PR program in particular sold him on the Mount experience. "I could tell that PR matched my skills and interests – like writing, interpersonal communications and public speaking," Raf says. "It's great because it's a role that every sector needs."
Soon after meeting Ashley-Jane, Raf was not just accepted to the Mount's PR program, he was also offered a prestigious President's Scholarship. The President's Scholarships are offered to a limited number of incoming students each year – those who have demonstrated the highest level of academic achievement and a commitment to their school and/or community. Raf remembers receiving an email with the scholarship offer and jumping around his kitchen at home with his Mom – that was the moment he knew for sure that his life's path was leading him to the Mount.
A new chapter
With his mother and sister in tow, Raf arrived in Canada for the first time in August 2018. His first Mount experience was International Student Orientation week, which occurs the week before move-in day and general orientation for all students. Raf quickly made friends from around the world, bonding over experiences in the IB program, the experience of being far from home, and orientation games and events. "The whole week was magical," Raf says. "Everyone felt the same way – full of jitters and anxiety – so it was easy to bond with one another."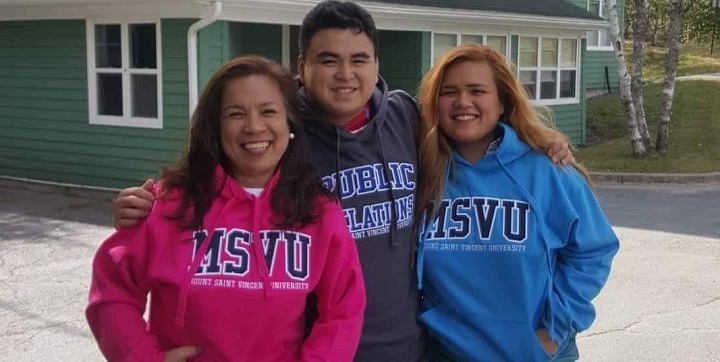 Since then, Raf has jumped into all that student life has to offer. He has continued his passion for helping new students by joining the Mount's
Student Ambassadors
team, run by the office of Student Recruitment. As a Student Ambassador, Raf shares his university experience with new students through events and tours of campus. He has also been involved in university video projects, sharing his Mount story with future students.
In November, Raf co-hosted Open Campus Day, the Mount's largest on-campus recruitment event of the year. As daunting as speaking in front of hundreds of new students may be, Raf was excited to break out of his new-student shell. "It was a confidence booster to do something so big for the Mount community so early into my degree," Raf says. "It was really fulfilling."
Since their first meeting in the Philippines, Ashley-Jane has watched Raf grow into a student life leader on campus. From showing Raf around campus for the first time, to watching him rock the Open Campus Day stage, she says he has become a valued part of the Mount community.
"Raf's energy is contagious," says Ashley-Jane. "I knew he would excel both in the Public Relations program and as a Mount student. He's quickly becoming a rock star on campus."
Raf has also shown strong commitment to student life through the
Mount Saint Vincent University Students' Union
(MSVUSU). This year he sat on the MSVUSU Constitution and Policy Planning Committee, a voluntary role that requires weekly examination of the governing documents of the MSVUSU. He was recently celebrated for his dedication to student life at the A. Garnet Brown Student Awards Night where he was named the 2019 recipient of the Emerging Leader Award.
Launching a professional career
As part of his BPR, Raf is currently completing his first of three
co-operative education
work placements. He's working as a Marketing Assistant at the Canada Games Centre in Halifax. This marks Raf's first time working full-time in the field, so he is making the most of every moment. It's a chance to apply skills he's learned in the classroom – like photography, writing and design. "Getting experience under my belt with a recognized organization like the Canada Games Centre is invaluable," Raf says. "It's a chance to be part of the field and see what PR practitioners actually do."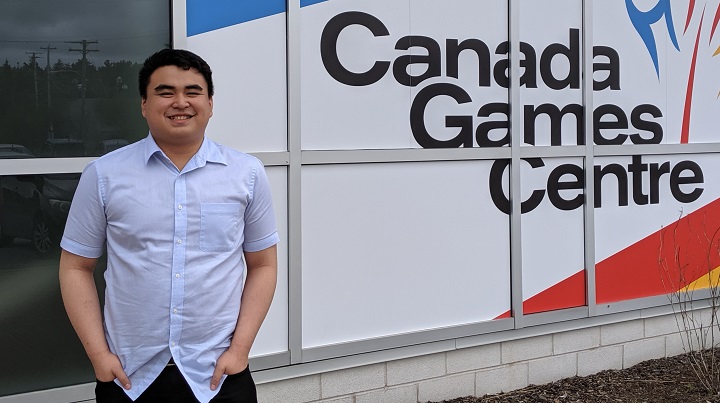 As for the future, Raf is keeping every door open, though he dreams of working in entertainment (he loves Marvel and Disney). "Public Relations didn't present itself [to me] until last year," he says. "Now I'm studying it on the other side of the world. Nothing in life can be set in stone – you never know what bigger and better opportunities are out there."
Rapid fire with Raf
Favourite class (so far)? "Audiovisual Communications and Persuasive Public Relations Writing."

Favourite Canadian treat? "Tim Horton's French Vanilla coffee."

Favourite campus spot? "The study nooks in McCain that overlook the water!" (Editor's Note: These are located on the third and fourth floor of the McCain Centre at the very end of the main hallway.)

Favourite Mount memory? "During Orientation week they brought in a video game truck. My new friends and I basically took over the Wii to play Just Dance until the truck had to go."

Favourite campus food? "Butter chicken day in the Rosaria Dining Hall. The desserts are good too!"

Favourite spot in Halifax? "The waterfront downtown."

Some memorable advice you have been given? "My mom always says to give my best to all the things I'm doing, no matter how small the task."

What's your advice to incoming students? "[Public Relations professor] Tracy Moniz would tell me not to use a cliché, but live in the moment and run with it. Also, it's okay not to have everything figured out right now. Make your plans and set your goals but be prepared to adapt when changes or opportunities arise."