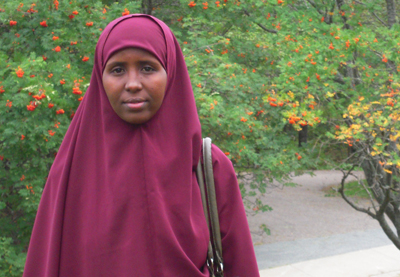 For many students, starting university can be a nerve-wracking experience. Moving away from the comforts of home and family to take on the task of earning a degree can be downright daunting.
For other students, like Binto Aden, going to university is an unexpected gift. 
At age six, Binto and her family fled civil war in their homeland of Somalia, travelling to Kenya where a refugee camp became their home. This is where Binto spent most of her life, making friends with other refugees and staying close to her family.
This year, Binto was presented with an offer–one she never expected to have. As part of the World University Service of Canada (WUSC) Student Refugee Program, Binto was offered a scholarship to the Mount. Living in Kenya, where post-secondary opportunities were limited for her, Binto readily accepted the offer to further her education.
"I was very much excited [about the scholarship]," says Binto. "This is a way out, for a brighter future." Binto now feels she is in a better position to achieve her goals, one of which is to help women and children who come from similar circumstances as herself.
Making the journey from Kenya to Canada was a huge leap for Binto. Despite her scholarship, she was nervous to immerse herself into a culture so different from her own. Luckily for Binto, her nerves were quickly replaced with surprise and joy when she realized that she already had a friend at the Mount. In 2008, the Mount welcomed its first student from the WUSC program, Halima Abdille. In a surprising twist of fate, Binto and Halima recognized one another from the refugee camp in Kenya—they were old friends.
Having a friend to support her as she adjusts to life in Halifax has been very helpful for Binto. Together, they've been able to visit the city, citing the waterfront and Citadel Hill as some of their favourite spots. Ultimately, though, both Binto and Halima are here for the same reason: to make the most of this opportunity at the Mount, and then return to Kenya to help families using the experiences and knowledge they gained through their university education.
 "Leaving your family and friends is not easy, and not everybody can do it," says Halima. Although she and Binto have left home to pursue their education, it is important to them that they stay connected to their homeland and families. Coming from a vastly different environment, Halima offers advice to her peers.
 "Try to be open-minded and always know what is happening in the other parts of the world," she says. 
As Binto begins her education in the BPR program, and Halima continues onto her third year of the BBA program, Halima has one final request of her classmates.
"Do not take life for granted. Always pass good things on," she says.
For more information about the WUSC Student Refugee Program, visit their website. Helping people like Binto and Halima further their education is more than just a donation, it is an investment in a culture, a country, and the world. The right to education is something some take for granted in Canada; pass it on.