"Our graduates are ready to lead like no others." – President Bluechardt
Mount Saint Vincent University (MSVU) celebrated approximately 380 graduates from 18 countries during fall convocation ceremonies held in Halifax, Nova Scotia on November 3. Students crossed the stage from arts, science, education, and professional programs to accept a wide range of certificates, diplomas and degrees before becoming part of the MSVU's network of more than 34,000 alumnae.
In her convocation address, Dr. Mary Bluechardt, President and Vice-Chancellor at MSVU, highlighted the many areas in which MSVU has advanced efforts in equity, diversity and inclusion.
"When MSVU was established in 1873, it was one of the only institutions of higher education for women in Canada. At a time when women could not vote, MSVU provided an opportunity for women to learn and participate equally in society," Dr. Bluechardt said. "Today, we continue to lead in areas of critical focus to the world – some longstanding, some emerging, others shifting. And you, our students, our graduates, are ready to lead like no others."
Honorary degree recipients
MSVU bestowed honorary degrees on accomplished innovators Lou Massa, PhD, and Louise Bradley, CM.
Lou Massa is a renowned chemist and physicist who has made ground-breaking contributions to the field of Quantum Crystallography. Louise Bradley is a health sector leader who has had a transformational impact on mental health care for Canadians. (
bios/additional photos
)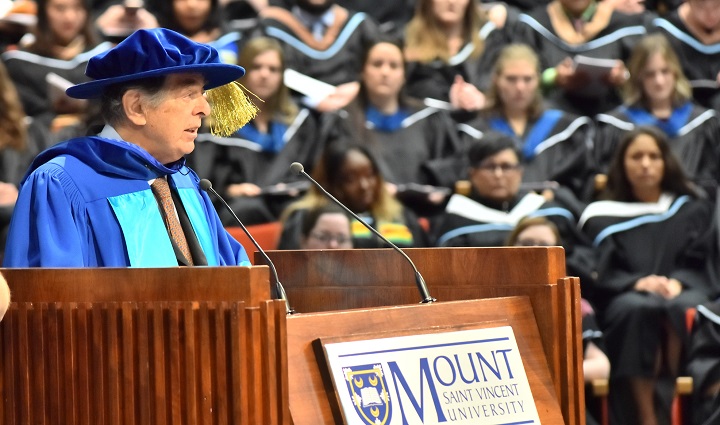 In his address, Lou Massa, PhD, noted how both the university where he works as a Professor of Chemistry and Physics – Hunter College of the City University in New York – and MSVU emphasize the education of women. "I take this opportunity to tip my hat to the leadership of the Mount in promoting the education of women, including in STEM areas, something pioneered, as I understand it, by one of your faculty members in the Department of Biology, Professor Tamara Franz-Odendaal."
He continued, "The wide spread effort for enhancing equity with regards to women in the STEM areas has started to bear fruit and is closing the gender gap." He highlighted women Nobel Prize winners, recent and past, noting to graduates: "The world of education is changing for the better and you can run with that."
Dr. Massa developed the field of Quantum Crystallography and has made many pioneering contributions to fundamental science. In his career, he's also emphasized dissemination of science to the general public, including through television and books.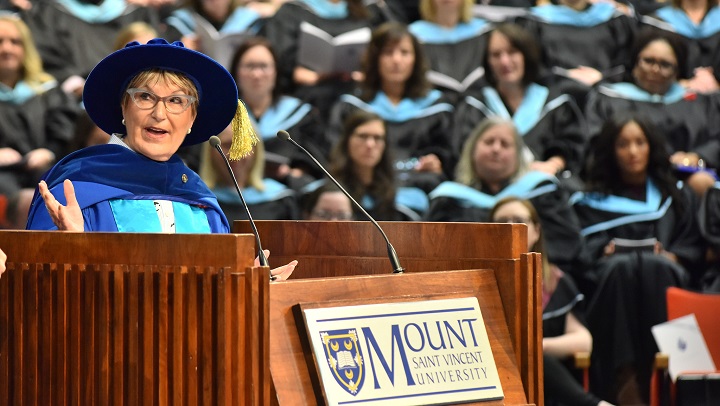 Louise Bradley, CM, is the President and Chief Executive Officer of the Mental Health Commission of Canada. She spoke of the challenges she's faced on her life journey, including the tragic loss of a close friend, a difficult upbringing, and her own struggles with mental illness.
She also spoke of the importance of resilience and the growth that comes from failure. "We will all experience loss. We will all survive heartache. That is why resilience is among the single most important traits you can develop," she said. "Resilience is an amazing thing. It's the thing that allows us to not only work through challenges, but to also come out stronger on the other side."
Louise said, "Changing our world to make resources more available, to knit tighter safety nets, to create safe spaces for people who are vulnerable, will create people who are more able to cope with life's challenges. It will foster the kind of resiliency that lets people bounce back from life's toughest knocks."
"When you're struggling, reach out and get whatever supports that you can. Pound on doors, go to peer-support groups, consider therapy if you can afford it – and lobby your government to fund it where it won't."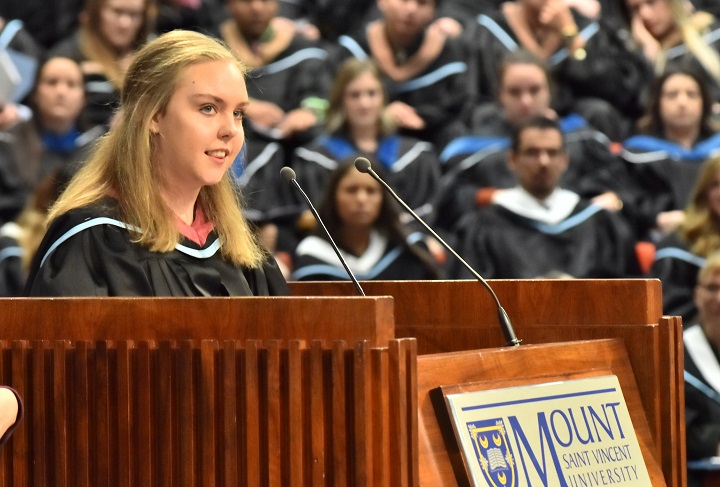 Pictured above: Valedictorian Alison Bryan
Student prizes
Valedictorian Prizes for significant contributions to extracurricular activities at MSVU and in the community-at-large were awarded to:
•
Alison Bryan
, Bachelor of Public Relations, Bridgewater, NS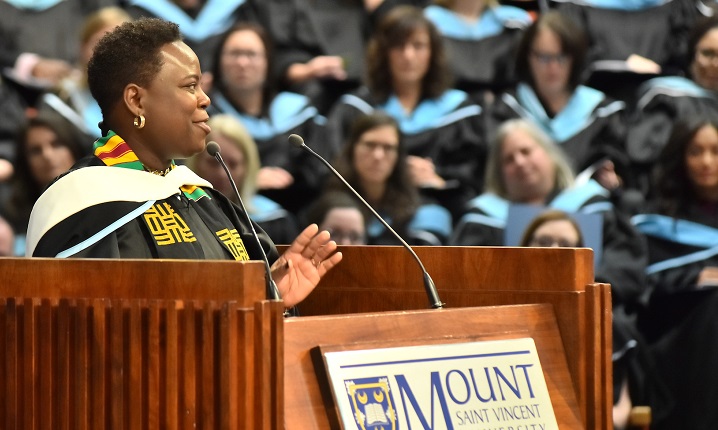 Pictured above: Valedictorian Kandi-Lee Crooks-Smith
The President's Prize, awarded to graduates whose generosity, energy and commitment enriches the university, was presented to:
• Elizabeth Duff, Bachelor of Public Relations, Antigonish, NS
• Hayley van Kroonenburg, Master of Education, Studies in Lifelong Learning, Dartmouth, NS
Membership to Kappa Gamma Pi, the National Catholic College Graduate Honor Society, is based on scholarship, leadership, and service, and was presented to:
• Alison Bryan, Bachelor of Public Relations, Bridgewater, NS
• Sree Ranga Prem Marisa, Research Master of Arts, Visakhapatnam, India
Graduate Thesis Award
• Kelly O'Neil, Master of Arts in Family Studies and Gerontology (spring 2019), Halifax, NS
Faculty Research Excellence Award
About Mount Saint Vincent University
As a leader in distance and experiential learning, and based on a strong tradition of social responsibility, Mount Saint Vincent University takes a personalized approach to education to nurture socially responsible global citizens. Founded in 1873, MSVU has been nationally recognized for having one of the lowest student-to-professor ratios, for providing students early access to valuable research opportunities, for its legacy in the advancement of women, and for facilitating critical advancements in food security, healthy aging, literacy, and childhood development.
---
Media contact:
Gillian Batten
Director, Communications
Mount Saint Vincent University
902-457-6439