Innovation, flexibility and confidence: Celebrating the contributions of MSVU Co-op students in 2021
By Raina DeBrouwer, Co-op Coordinator, Co-operative Education
For over 40 years, MSVU co-op students have contributed to the success of organizations in corporate, government and non-profit sectors across the country and internationally. The Mount Co-op Student of the Year Award was established in 1999 to recognize the achievements of co-op students. The selection criteria include academic achievement, community involvement, contribution to the employer, and the impact co-op has had on the student's personal and professional development.
Each year, many deserving students are nominated by esteemed co-op employers for this prestigious award. This year, the following three nominees were ultimately selected as the 2021 Mount Co-op Students of the Year for their respective academic programs.
---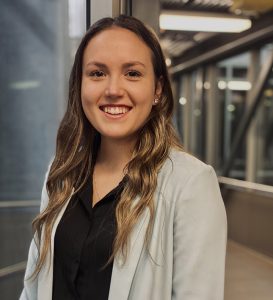 Kathrine McEwen
2021 Mount Co-op Student of the Year – Business Administration
Nominated by: Society for Enterprise Education and Development, Halifax, NS
Kathrine McEwen was nominated for Business Administration Mount Co-op Student of the Year by the Society for Enterprise Education and Development (SEED). Kathrine's supervisor, Stewart Zaun, Senior Manager at SEED, credited her innovative solutions in nominating her for the award.
"Kathrine came in quiet and reserved but quickly adapted to our current systems and offered excellent, creative and well-founded suggestions for improvement within our reporting and financial processes. She quickly became an integral part of the team, and beyond that made some suggestions that will have a long-standing impact. She expanded her role by creating this lasting impact," said Stewart.
The impact SEED had on Kathrine was equally lasting.
"While at SEED, I learned a lot about social services in Nova Scotia. Prior to my placement, I had little to no knowledge or experience in the province's social assistance programs. It opened my eyes to the real-world state of the system. I really enjoyed working hands on with youth and it was rewarding to feel as though I was making an impact. I gained valuable perspective and realized the privilege I have in my daily life and the importance of taking care of my mental and physical health," said Kathrine.
Kathrine has earned this award through her contributions to SEED, her ongoing commitment to youth soccer coaching, and her involvement in volunteer initiatives to raise awareness for National Day for Truth and Reconciliation and Breast Cancer Awareness Month.
Congratulations Kathrine!
---
Megan Savary
2021 Mount Co-op Student of the Year – Public Relations
Nominated by: Health Canada and the Public Health Agency of Canada, Halifax, NS
The spring and summer months of 2021 were particularly busy for Health Canada and the Public Health Agency of Canada (HC/PHAC) as they continued their efforts to support the federal government COVID-19 pandemic response. Megan was a positive force in managing this heavy workload. Erin Turcotte, Senior Communications Advisor, Health Canada and the Public Health Agency of Canada, had this to say about Megan's contributions:
"Megan joined our team during a unique time when we were supporting the ongoing pandemic response. Due to COVID-19 restrictions, our branch had to learn to deliver events virtually. Megan did logistics for five virtual events with Ministers and Members of Parliament on high profile topics: Pharmacare, fetal alcohol spectrum disorder, sexual and reproductive health, safe voluntary isolation sites, and safe long-term care for seniors.
Megan made every day a learning day, regularly taking initiative and lending her skills to team members and other areas within the organization. She took a keen interest in learning more about Heath Canada, The Public Health Agency of Canada, and the Government of Canada as a whole. When working within our team, Megan always found ways to add value. To conduct virtual events, she familiarized herself with the platforms and took time to test the technology ahead of start times. She also took the initiative to research announcement topics and flag recent articles of interest to us, which was very helpful in terms of anticipating questions from media."
Megan found her work at HC/PHAC to be reinvigorating after a year of online learning.
"Following my co-op work term, I returned to classes in September 2021 with a newfound drive for the public relations program and was ecstatic to reference what I had learned during my time at HC/PHAC to further my academic courses. Not only is the co-op program a chance to gain firsthand work experience, network with industry professionals, and balance financial costs of an undergraduate degree, but it is a chance to directly apply classroom teachings to the industry, which gives me confidence in both what I am learning and my entry into the workforce post-graduation," said Megan.
Beyond Megan's contributions to co-op, she is the co-president of MSVU's Public Relations and Communications Society and an active volunteer with the Mount Student Food Bank. To best serve the MSVU community safely during the COVID-19 pandemic, Megan helped to form a food bank delivery service that made over 120 food deliveries to MSVU students on a weekly basis.
Well deserved, Megan!
---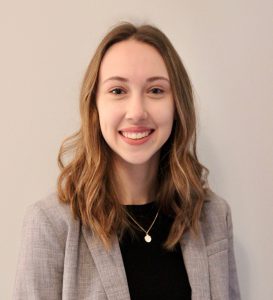 Ella Burns
2021 Mount Co-op Student of the Year – Tourism & Hospitality Management
Nominated by Fox Harb'r Resort, Wallace, NS
Ella's impact at Fox Harb'r Resort extended beyond standard operational requirements; she made impressive decisions that satisfied guests and even saved the resort money. Kristy Grandy, Guest Service Manager, Fox Harb'r Resort, had this to say about Ella's contributions:
"Ella's diligence in thinking ahead has saved our business and guests from both timely and costly errors. Her ability to think from the perspective of the guest and the business made Ella our most valuable employee, and she was able to teach this method to others as well. Ella was the first person in most cases to raise her hand and volunteer her time and skills when tasks presented themselves. She would jump in where needed and as a supervisor, I would entrust her to step into a leadership role where necessary and help guide our team to success."
Ella wasn't always comfortable taking on a leadership role. It was through her co-op work terms that she was able to develop the confidence to lead.
"Since completing my work terms, I am much more comfortable conversing with peers and making decisions with confidence. Problem solving is another skill I developed on the job that has helped my personal life. The hospitality industry is about problem solving as much as customer service, and being calm and collected during any issue that may have arisen on the job has carried into my personal experiences as well," said Ella.
Beyond this work at Fox Harb'r Resort, Ella has proven herself to be a force in the local tourism and hospitality industry through regular attendance at industry conferences and dinners, volunteerism for the MSVU Tourism department, and by holding the role of VP of Management on the Mount Business and Tourism Society.
Well done, Ella!
---
Congratulations to Kathrine, Megan, Ella and all 19 co-op student nominees. Your invaluable contributions to your respective industries do not go unnoticed. We at the Mount Co-op Office are excited to see what your professional futures hold!