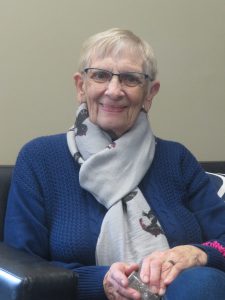 Phoebe Smith came to work at Mount Saint Vincent University on October 28, 1974 for a three-month job, or so she thought at the time. Instead she has stayed "forever." Phoebe has now worked as an Administrative Assistant at MSVU for 48 years, almost one third of the university's 150-years. Today, she works with the departments of Modern Languages, Cultural Studies, and Women's Studies.
Phoebe's connection to MSVU began long before she took her first job on campus. When her dad was 18, he moved to Halifax from Lake Doucet in Digby County. It was May of 1919 and he got a job working on the farm belonging to the Sisters of Charity Halifax, now the site of MSVU. Phoebe's dad, an Acadian, learned to speak English while working on the farm and living in nearby Rockingham. Phoebe would play in a field along the Bedford Highway picking lilacs; that field is now the site of the Seton Academic Centre.
Phoebe's first job at MSVU was working for a centralized "secretarial services" team that assisted departments without an assigned administrative assistant. In the mid-1990s she was assigned to Modern Languages (MODL), along with other, smaller departments. She has worked with at least seven different MODL Chairs, some of whom served two or more mandates.
Phoebe's family connections to the university now span four generations. Her daughter, now a teacher, holds two degrees from MSVU. As well, her grandson attended the Child Study Centre when he was young.
Phoebe's dedication to the success of the departments she has worked for at MSVU – including their students, faculty and staff – is unparalleled according to her colleagues. She exudes kindness and patience. Noted one of her colleagues, "Without Phoebe, Cultural Studies would never have taken root and flourished to the degree it has. She nourished this little remnant of Fine Arts with her confidence and conviction that the Mount flourished through small, distinctive sites as well as larger, more conventional units. She has set an example of dedication and resilience that is truly unmatched."
Hear more from Phoebe on her profile page.
---
MSVU's history is rich with the stories of countless people who've had an impact on the university and in the broader community. Over the course of 2023, we'll feature mini stories about 150 MSVU students, faculty, staff and alum. Check back often to meet more amazing MSVU people!