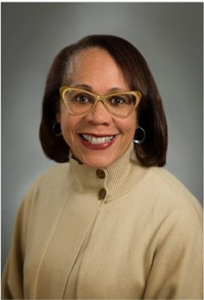 Engaging Black students in deep discussions around their powerful history, culture and identity was Karen Hudson's objective in creating the Black Excellence Day leadership summit recently held at MSVU, and it's a goal she achieved by bringing together over 80 plus African Nova Scotian high school students for the leadership summit.
The event is among the many ways that Hudson – Principal of Auburn Drive High School, a long-time and celebrated Halifax Regional Centre for Education educator, and a believer in creating strong cultural identity among students – is making a meaningful difference in young lives. She has been recognized as one of Canada's 30 outstanding principals for her role in launching the Africentric Math Cohort, which introduced cultural aspects to the discipline and has since been expanded to high schools across Nova Scotia.
Currently serving as interim president of the Black Educators Association (BEA), Karen has chaired, co-founded, and participated on boards including the Freedom School, Africentric Learning Institute, Connecting to Africa, and the Indigenous Black and Mi'kmaq committee at Dalhousie Law School. She is the recipient of numerous awards including the Nova Scotia Teacher's Award, Queen Elizabeth II Diamond Jubilee Medal, and the Nova Scotia Family Volunteer Award. She is also featured in John Morrison's book The IT Factor: Discover and Unleash Your Own Unique Leadership Potential.
Karen is an alum of MSVU. She graduated with her Master of Education in Curriculum Studies in 2005, and a Master of Education degree with a concentration in literacy in 2010.
---
MSVU's history is rich with the stories of countless people who've had an impact on the university and in the broader community. Over the course of 2023, we'll feature stories about 150 MSVU students, faculty, staff and alum. Check back often to meet more amazing MSVU people!