Mount Saint Vincent University (the Mount) celebrated approximately 600 graduates from 29 countries during spring convocation ceremonies held in Halifax, Nova Scotia on May 17 and 18. Students crossed the stage from arts, science, education, and professional programs to accept a wide range of certificates, diplomas and degrees before becoming part of the Mount's network of more than 34,000 alumnae.
Honorary degree recipients
The Mount bestowed honorary degrees on three exceptional women: a dedicated champion of economic, environmental, and social justice
Megan Leslie
; lifelong advocate for First Nations, residential school survivor and Truth and Reconciliation contributor
Jane Abram
; and thought leader on gender equality, diversity and inclusion,
Deborah Gillis
(
bios/additional photos
).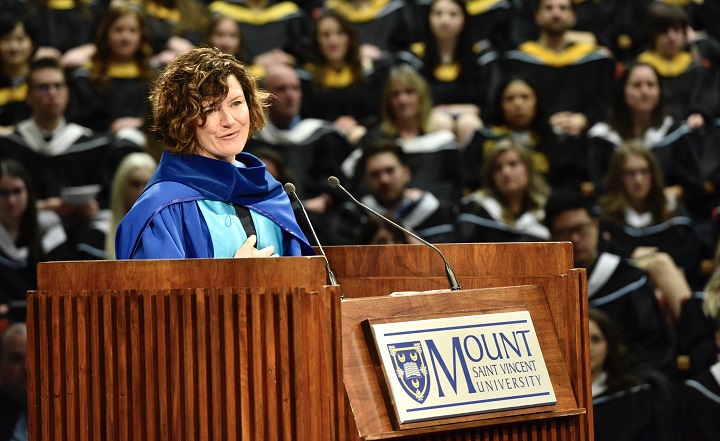 In her address,
Megan Leslie
, BA, LLB – today the President and CEO of WWF-Canada – told the story of her first effort to make an important change for her community. When she was 15 years old, she and two school friends fought the filling of empty mine shafts with toxic waste in her rural Ontario community. Ultimately, the town council voted against the proposal. Though she doesn't take credit for that direction, she spoke of what the experience taught her and the passion for environmental, social and economic justice it ignited. "You don't need to be a lawyer or a politician or a CEO," she said. "We all have power. We have different kinds of power. And we have so much more power when we work together. All of us have power to make change in our communities. It's in your DNA now as a Mount graduate…Think about how you'll do your part. You are the legacy of the Mount Saint Vincent University quest for justice."
About the Mount, Megan noted, "What's been happening here on campus is a little bit of magic and a whole lot of justice for 150 years. So when I say it's an honour to become one of you, it's truly an honour."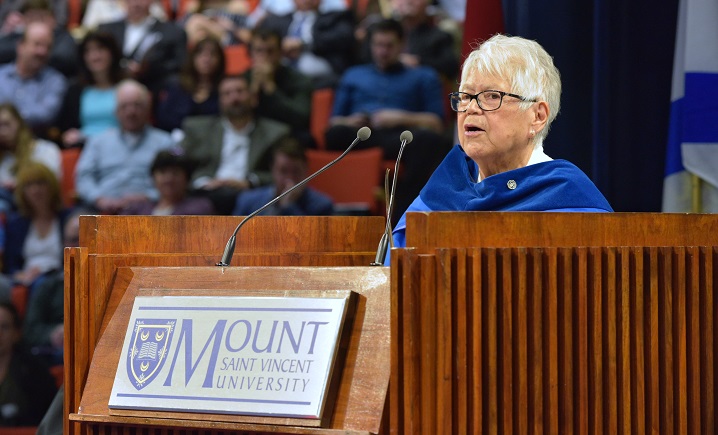 Elder
Jane Abram
, BEd, spoke of her family – her dedicated parents and her 10 siblings. She told of how she spent eight years in residential school and how her early experiences, family support and education, led to a career supporting Indigenous children and youth. To the graduates, she said, "Today I ask you – no matter what your professional path may be – to change the way you see my People. We have been through much more than I could ever discus with you in one day and we need people willing to collaborate with us. I need you to become a partner within our communities. We need to move forward with one another in order to build a better tomorrow."
Jane concluded her remarks by sharing a piece of advice her Mom often shared. She asked the graduates to ensure they passed it along: "As [Mom] used to say to us: Walk straight, hold your head up high and be proud of who you are."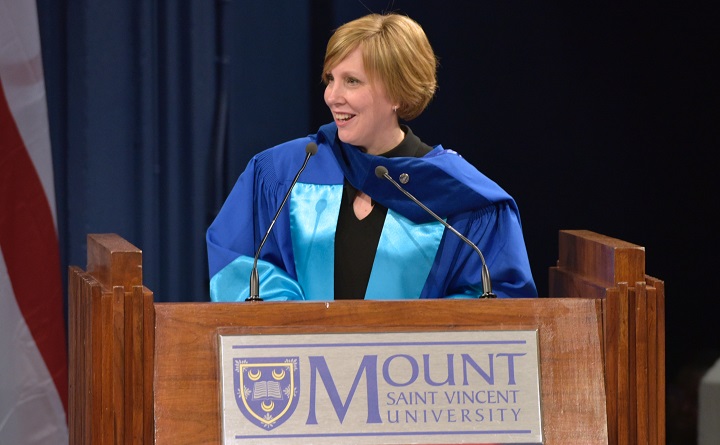 Deborah Gillis
, President and CEO of the Centre for Addiction and Mental Health and former President and CEO of Catalyst, spoke of the power of community and the harm of isolation. She talked about the problem of exclusion, a fleeting experience for many, but a heavy and inescapable burden for some. "The social, economic and human cost of this exclusion is devastating, and it's senseless. Together we are always stronger – at work, at home, at play, at school. When everyone has a place, we are a better place. That's why my life's work has been devoted to creating work places and communities that don't exclude, but include everyone."
She shared her hope for the future. "As I reflect on this occasion for today's graduates, what impresses me most about the next generation of leaders is your open hearts, open minds and acceptance of difference. … As you go out into the world, I have a favour to ask: use your open hearts and open minds kindly. Make room for everyone. Take the time to truly know each other. Build bridges of understanding and let otherness unite us."
Student prizes
Valedictorian Prizes for significant contributions to extracurricular activities at the Mount and in the community-at-large were awarded to:
•
Kathleen Chan
, BSc (Applied Human Nutrition, Honours), Burlington, ON
•
Pamela Lovelace
, Master of Education (Lifelong Learning), Hammonds Plains, NS

The President's Prize, awarded to graduates whose generosity, energy and commitment enriches the university, was presented to:
• Karley Brooking, BSc (Biology), Enfield, NS
• Morgan Atwater, Bachelor of Public Relations, Lochbroom, NS
The Governor General's Medal is presented once per year for the highest aggregate in the final three years of a degree program (undergraduate) and the top graduating Master's student:
• Sage L. Dixon, BSc Honours (Biology), Middleton, NS
• Troy Messenger, Master of Education (Curriculum Studies), Bridgewater, NS (graduated fall 2017)
Membership to Kappa Gamma Pi, the National Catholic College Graduate Honor Society, is based on scholarship, leadership, and service, and was presented to:
• Krista Hull, BA Honours (Psychology), Halifax, NS
• Raina DeBrouwer, Bachelor of Public Relations, Blenheim, ON
• Randy Headley, Master of Arts in Education (Lifelong Learning), Halifax, NS
• Mary Jo Bernard, Master of Family Studies and Gerontology, O'Leary, PE
Faculty Recognitions
Teaching Excellence Awards were presented to:
• Ms. Denyse Rodrigues, Library – President and Vice-Presidents' Advanced Career Teaching Award
• Dr. Tracy Moniz, Communication Studies – Alumnae Early Career Teaching Award
• Dr. Katie Aubrecht, Family Studies and Gerontology – Alumnae Part-Time Teaching Award
About Mount Saint Vincent University
As a leader in distance and experiential learning, and based on a strong tradition of social responsibility, Mount Saint Vincent University takes a personalized approach to education to nurture socially responsible global citizens. Founded in 1873, the Mount has been nationally recognized for having one of the lowest student-to-professor ratios, for providing students early access to valuable research opportunities, for its legacy in the advancement of women, and for facilitating critical advancements in food security, healthy aging, literacy, and childhood development.
---
Gillian Batten
Manager, Communications
Mount Saint Vincent University
902-457-6439
Gillian.Batten@msvu.ca